Canada: Probably the best skiing in the world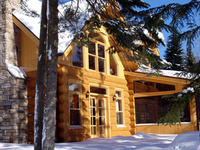 Naturally at this time of the year the travel sections of magazines and newspapers are filled with snow reports and reviews of ski resorts; the editors of these publications are likely aware of the fact that there has again been a year-on-year growth of 3.4% in the winter sports travel market in 2007 with in excess of 1.3 million people in the UK now regularly taking winter sports holidays.
What all this means is that there is keen consumer interest in winter sport so it needs to fill column inches - and because the independent travel market makes up a whopping 17% share of the winter sports market, it's entirely understandable that there has been a strong media push to promote cheap flights to new ski resorts in eastern European destinations such as Romania and Bulgaria.
This media promotion may be making some headway as we seek more affordable destinations for our winter sporting holidays, but anyone serious about their skiing and winter sports action knows that the best ski resorts in the world are still found in Canada…
After all, where else does the ski season begin as early as November?
Where else do you get reports of a forty-seven inch base of snow already having fallen by the first week of December?
Where else has been dubbed 'the mother of all skiing destinations' by a special winter travel report in The Boston Herald this year?
Where else indeed but Canada - and to be specific, Quebec?
Now if you're thinking that Canada is hardly affordably accessible for the majority of us, whilst you may have been right just a few years ago, the prospect of affording to ski in Canada has actually become more than possible thanks to low cost airlines from the UK and Ireland opening up new routes.
For example, just this year Zoom Airlines have massively expanded their destination base and flight frequency to Canada. They now fly from the UK and Ireland to locations across British Columbia, Alberta and Quebec with their marketing manager commenting that their emphasis continues to be on providing "greater frequency and flexibility on Canadian winter ski flights…at prices equivalent to what you would pay for a European ski holiday."
In terms of where to ski in Canada, according to John Prior who's the managing director of Undiscovered Properties which promotes the delights of some of the most exclusive and elegant residential properties around the world: "whilst Canada is home to the likes of world famous and luxurious resorts such as Whistler in British Columbia, (which will host the Alpine events for the 2010 Winter Olympics and which is regularly in the top ten ski resorts in the world according to all the major ski industry publications), it is also home to a handful of emerging and affordable gems which are gaining significant ground such as Mont Tremblant in Quebec."
And John Prior isn't the only one to be focused on Mont Tremblant. The New York Times recently rated Mont Tremblant 'one of the most accessible, affordable and fantastically diverse winter sports resorts' in a special ski resort review which covered the whole of North America, and Ski Canada Magazine regularly rates the resort as one of the best ski towns in the country.
Located in an untouched frontier in Quebec in Canada and set deep in the heart of the most beautiful countryside, Mont Tremblant is the ski capital of eastern Canada. Despite the seeming secrecy and intimacy of its location it is just a ninety minute drive away from the sophistication of cosmopolitan Montreal which has a large international airport connected by regular and direct flights to over 120 destinations in the UK, America and Europe.
Whilst currently being promoted internationally for its skiing, the resort of Mont Tremblant is actually famous locally for its year round appeal. It has incredible hiking and biking trails, stunning lakes for sailing, kayaking, water skiing and fishing, and now the brand new Eagles Ridge residential project is bringing a Graham Cooke signature golf course to Mont Tremblant as well as an equestrian centre, gymnasium, swimming pools and a boat club. However, it is certainly the skiing and winter sports such as ice skating, snow boarding and dog sledging for which the resort is fast gaining international recognition.
As stated, the New York Times are promoting Mont Tremblant and with the development of the master planned, luxurious Eagles Ridge project coming on apace, interest in this dramatically stunning corner of Canada is intensifying and annual visitor numbers are increasing.
Eagles Ridge, Tremblant Lakes is Eastern Canada's most prestigious development with large spacious traditional log and frame build homes surrounding one of the 5 freshwater lakes and all set in minimum 1.5 acre plots and with stunning views over 1800 acres. The development is only 15 minutes from the Mt. Tremblant, so easily accessible through the National Park to the south side of the mountain and where all the action is to be found.
Owning a prestige property lodge home at Eagles Ridge has all the benefits of being close to the skiing, yet away from the bustle to relax in luxury homes with on venue amenities of a golf club, boutique hotel, sailing club and equestrian, grocery store and much more, all designed to capitalise on the true 4 seasons of this part of Canada, which is something clients are increasingly looking for, and if the performance of the last project by the developer are anything to go by, client owners have seen capital appreciation of twice the national rate which is already a healthy +7-10% per annum. So a great destination in terms of 4 seasons lifestyle living, sound investment and return in the increasingly popular Canada
The development offers uniquely styled 3, 4, 5 and 6 bedroom lodges and the properties start from GBP 280,000 / CAD 573,000 / EUR 392,000.
For more information, visit undiscoveredproperties.com.