Guaranteed finance on land plots: A world first from DSR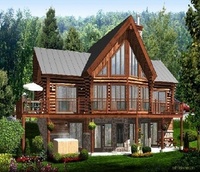 In what is possibly – if not probably – a world first: David Stanley Redfern are in the fortunate position of being able to offer overseas property investors guaranteed finance on land plots. And not just any old land; 1 acre plots on the Rouge River resort, voted best resort in Quebec for the past eight years.
The properties are very reasonably priced; acre plots start from only £18,500, and as I said, guaranteed finance is being offered by the developer, simply put £3000 down and the property is yours to do as you wish with from that point forward. Doing as you wish includes building nothing and keeping it as a land investment, possibly to take a camper van to each year forever, or for a few years before selling for a great profit. But perhaps the most favourable options are the developer's pre-designed 0-6 bedroom log chalets waiting to be built whenever you decide.
Building costs of the pre-designed chalets are around £75.00 per sq. ft., minimum build is 700sqft and maximum is 4000sqft. An average three bedroom chalet is 1500sqft, which based on those costs would be £109,000, plus land price of £18,500, totalling £138,500. Rental yields on such a property would be 6-8% which is very good for a property of such size.
But it is on capital appreciation that these properties really stand out, the Rouge River resort is currently enjoying unprecedented levels of investment, mostly in high end property developments. Our buyers are fortunate, because our Rouge River developments are half the price but will benefit from the value increases these new developments will trigger. Experts are estimating that property prices in the area will at least double in the next few years -- possibly even quadruple.
Capital Gains Tax is 25% of 50% of the net gain (minus all buying and selling costs), equating to 12.5% CGT. Rental is a fixed 25% of the gross rental income, but none residents can choose to pay tax on their net rental income at the progressive federal rates, this choice incurs at 48% surcharge.
As for the location; the Red River Resort - as it is known by the locals - is an awe inspiring place; 100 miles of trout filled river making a unique sound that can be heard throughout the site, and is drowned out only by bird calls and other sounds of the fantastic nature that the Laurentian Mountains, Quebec and Canada as a whole are world renowned for. Land owners are immediately granted rights to enjoy sport on the river, including fishing, kayaking – yes there's rapids; well it is Canada - canoeing, boating, swimming, and of course picnicking and hiking along the banks. There is also a 100 mile bicycle track.
And that is only for the summer months, in winter the bicycle track becomes a skidoo trail, hiking the river bank turns into cross country skiing, fishing turns into ice-fishing, and the birds, nature and wildlife to be seen and heard all change drastically. As well as being close to the new multi-billion dollar property developments, Mt Tremblant is only twenty minutes away by car, where skiers will find alpine downhill skiing to compliment the cross-country trails on offer on Rouge River, and Montreal is only 90 minutes away. Rouge River properties bring rentals from visitors coming in for both tourist attracting locations.
All the above gives these properties incomparable all year round rental potential. But when you see the nature that the Laurentian Mountains and surrounding area has to offer you may just emigrate. One thing is certain, if this development appeals to you and you don't put your money where your mouth is fast, you will be disappointed that you didn't. Why not call David Stanley Redfern Ltd today for a free non-obligation chat – what've you got to lose.
Find out more about Canadian investment properties at: www.davidstanleyredfern.com/investment-property/canada/property/rouge-river-resort.php