British Columbia – Global warming resistant ski resorts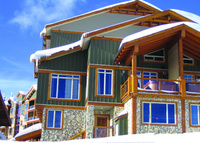 In December 2006 European ski resorts were in a state of panic. In Germany, Italy, Switzerland and Austria resorts shared feelings of disbelief and despair as unseasonably warm conditions forced them to delay their openings as the snow just didn't want to fall. Green meadows replaced usually snowy pistes and even the flowers and bird populations were confused. British Columbia, Canada's most westerly province, will never face this conundrum. At the time of writing 80 inches of the lightest driest snow cloaked the most popular slopes, no amount of global warming will shift that.
Adam Godwin, Marketing Director for Dream Homes WorldWide comments, "A property purchase in British Columbia is a wise option for investors and ski addicts alike. Boasting the second largest ski resort in North America with a phenomenal six month ski season, we are marketing first-class residential properties offering the ultimate in ski-in ski-out luxury with the pistes touching the doorstep. A resort rental company can maximize returns whilst the owner is not in residence, with Americans a key target audience, meanwhile property prices in British Columbia are rising rapidly with nearby cities of Calgary and Edmonton seeing apartments go up in value by 38.9% and 72.1% respectively from 2006 to 2007. For a country where the property market is still young and inward migration on the up, not to mention Vancouver hosting the 2010 Winter Olympics, the prospects for growth are considerable."
The resort, which is consistently voted amongst the best in the world, sits just 56 km from Kelowna, the largest city in the Okanagan Valley with its international airport. Offering over 118 ski runs for all abilities, snowmobile tracks and tube parks, the slopes face mainly south to soak up the winter sun and there are 16 fast efficient lifts to take you there. A destination of choice for both grown ups and families, aside from the white stuff the resort offers world-class restaurants and pubs, wi-fi hotpots and retail outlets alternatively you can circle the ice skating rink or sit around the bonfire nursing a hot chocolate in kid-friendly 'Happy Valley'. British Columbia is also said to offer a 'west coast special' where visitors can ski and play golf in the same day. And then there's kayaking, hiking, fishing… well it is the Great Outdoors.
On the Market:
Aspens Phase III, British Columbia, Canada
The luxurious one and two bedroom apartments are fitted with high quality bathrooms containing steam showers and cosy underfloor heating, kitchens have stainless steel appliances, the living area has a floor to ceiling stone fireplace whilst exquisite maple cabinetry and distressed hardwood flooring is standard throughout. The pièce de resistance is an intimate covered decking area perfect for après ski gazing at the white slopes and the clear starry skies. When you're done with snuggling up in front of a warm fire inside, the pistes are literally on the doorstep giving Aspens III true 'ski-in ski-out' status. Just 56km from Kelowna International Airport.
One bedroom apartments from 142,400 GBP (approx 188,580 euros)
Deposit 2,000 GBP (approx 2,648 euros), 30% payable within 10 days of reservation, 70% upon exchange of title deed
This development is already complete and ready for occupancy.
Copper Kettle Lodge, British Columbia, Canada
A luxurious off-plan project featuring spacious three bedroom apartments, possibly the most exclusive homes in the resort. Kitchens are equipped with all white goods, bathrooms have deep soaker tubs and oversized steam showers, bedrooms have fine Berber carpets whilst large terraces are able to accommodate a full-size Jacuzzi at additional cost. Underfloor heating is introduced throughout, hand-scribed oak hardwood flooring used in living areas and a natural rock-faced gas fireplace completes the picture.
Three bedroom apartments from 292,400 GBP (approx 385,621 euros)
Deposit 2,000 GBP (approx 2,648 euros), 10% payable within 10 days of reservation, 20% within 30 days and 70% upon exchange of title deed
This development is already complete and ready for occupancy.
For further information, visit dreamhomesww.com.