You can bet your bottom dollar on Canada's property market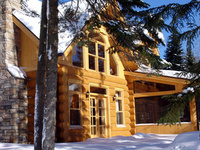 Whilst much talk in the media relates to the sub-prime mortgage market meltdown in the US, the global credit crunch, weakening currencies and of general uncertainty in many nation's short term economic projections and property markets, one nation's positive prospects are being overlooked.
Sometimes considered a poorer relation to the United States or overlooked as a leading economy of the world in favour of the UK and the US for example, Canada is actually the one nation that is quietly thriving in these times of fiscal insecurity.
Canada is first among G8 countries when it comes to the quality of life it offers its citizens, it is first when it comes to having the lowest cost of living, and first in terms of enjoying the lowest unemployment rate – and what's more, Canada's property market is not only prospering, it's offering increasing numbers of overseas buyers an affordable way to own a stunning and accessible second, retirement or permanent home abroad.
Whereas Canada's economy has indeed often trailed the US economy, today it is leading the US - as is its Canadian dollar currency which, on the 24th of January 2008, gained the most since at least 1971 because of a surge in investor interest and confidence in commodity-exporting countries such as Canada, according to a Bloomberg report.
There are a number of key factors supporting the ongoing health and positive prospects of the Canadian economy and in turn, Canada's housing market: -
Firstly, the Canadian economy is strongly built upon its natural resources such as its gas and oil reserves – it has the second largest oil reserve in the world and is the third largest producer of natural gas. Going forward, the government and private sector are pumping significant funding into greater exploration to find even more deposits. So successful is this particular sector of the economy that there is an employment growth rate of over 5% per annum in Alberta where much of the oil and gas are sourced, and in certain parts of Canada there is actually a chronic shortage of workers which has prompted international headhunting.
Until just five years ago a significant proportion of all Canadian exports were headed for the US, but seeing tough times ahead for the US economy, the Canadian government has been tireless in its support of businesses diversifying their export focus, so that today almost a quarter of all exports are headed to non US based destinations. This is a significant increase and has meant that whilst the US economy is suffering greatly, the knock on effect in Canada has been far reduced.
In terms of the housing market prospects in Canada, well, whereas in 2007 the US media were focused on record numbers of home repossessions, Canada was celebrating the fact that for the first time in the nation's history, The Canadian Real Estate Association reported a billion dollars worth of home sales. Also in 2007 when the US was intensely focused on the fact that there had been massive over exposure in the sub-prime mortgage market, Canada was quietly confident in its citizens' ability to repay their mortgages, because less than 5% of the home based lending market in the nation is sub-prime.
According to John Prior, the Principal of Undiscovered Properties:
"there was a 3.3% increase in home sales in the second quarter of 2007 taking the year's growth to almost 8% year-on-year, there was almost an 11% year-on-year increase in average home prices in the 25 main cities with a national projection of 6.7% for 2007 and 6.1% in 2008 according to the Canadian Real Estate Association, and because Canada's prospects are so healthy in terms of its economy, its employment opportunities and its housing market, in 2007 there were so many people emigrating to Canada that now, one in five people in Canada is an expat which is the highest level in 75 years."
Add to all of these positive factors the fact that the credit environment in Canada remains favourable, with the Bank of Canada having recently reduced its interest rate which makes mortgage financing more affordable, the fact that inflation in Canada is well under control, government spending is healthy and property prices and demand for housing are both still rising, and one can immediately see why Canada makes such a good bet for anyone looking for an investment property abroad or a home of their own overseas for relocation or vacation.
A stunning development in just one of the Canadian provinces to have witnessed strong price gains in 2007, and which is on target for strong growth in house prices and demand in 2008 as well as an increase in tourism numbers, is Eagles Ridge in Quebec on the border of the Mont Tremblant National Park. This development is just a 90 minute drive from Montreal, with its daily UK flights, and it is on the edge of the number one ski resort in eastern north America - according to Ski Magazine.
The properties for sale make exceptional lifestyle living and tourism focused investment properties, they are ideally located for strong price appreciation, with another development by the same developer having seen gains of up to 46.9% in just two years, and what's more, they make fabulous vacation or relocation homes for those looking overseas for affordable yet luxurious property.
The properties are 3, 4, 5 and 6 bedroom lodges set in 1,800 acres of natural woodland and facing freshwater lakes. Onsite amenities range from an 18 hole golf course to a sailing club, from a boutique hotel to swimming pools and tennis courts. For sale from just GBP 299,000, these properties are well worth a closer look.
For more information, visit undiscoveredproperties.com.