Model start to 2008 for Canada's property market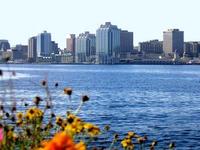 So far 2008 has been very kind to Canada's property market. A Place in the Sun Live recently reported that Canada had recorded the biggest jump in its league table for most popular overseas property destinations, moving up seven places on last year to ninth spot this year. Then, a global report on British Expats by NatWest International Personal Banking rated Canada as number one for its quality of life experience. Whilst the USA wobbles, Canada is positively blooming.
Ailse MacFarlane, Marketing Director for Landcorp International comments, "Canada provides the perfect environment for a dependable, steady, long-term investment returning consistent capital growth year-on-year - 8% has been quoted for 2007. Rather than taking a huge gamble on emerging markets, Canada's high employment, low crime rate and low cost of living is attracting British investors in their droves and many of Landcorp Internationals' clients are gravitating from pure investment to lifestyle considerations."
Ailse continues, "The success of our land opportunity at Forest Lakes Country Club in Nova Scotia was initially founded on the fact that people could purchase a half acre of pre-development land for 14,975 pounds and then, once the developer secures planning permission around 2010, release the land back to the market for sale and realize a predicted profit of 150 to 250%. However, many of our investors plan not to walk away at this point but to reinvest their gains back into Forest Lakes Country Club with its different types of housing, full amenities, 25 acre lake and 18-hole golf course. It then becomes a very cost-effective way of acquiring a second home in the Great Outdoors."
Forest Lakes Country Club is set in Nova Scotia, a rural idyll for wilderness lovers. Embracing outdoor living, this Atlantic maritime province has small friendly communities juxtaposed against the vibrant waterfront capital, Halifax, with its award-winning International Airport. Pleasant warm summers and crisp bright winters provide ideal conditions for adventuring in the pinewoods and forest glades or simply for strolling along the endless rugged coastline. The resort is a half hour drive from Halifax itself, comfortable commuting distance for city workers, or just an ideal spot for the many Brits who are looking to Canada for a permanent or semi-permanent move abroad.
The Forest Lakes Country Club site is already classified to permit development of residential units and a variety of commercial and recreational facilities. The required modifications for the development are expected to be granted by 2010. Half acres are available for 14,975 pounds.
For further information, visit landcorpinternational.com.