Log cabins guaranteed to make your friends green with envy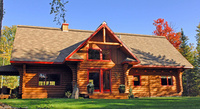 With a greater emphasis than ever being placed on doing your bit for the environment, it's not surprising many people are considering how eco friendly they are and what they can do to make improvements.
Choosing not to recycle or buying anything other than Fairtrade products can be considered by some as a social taboo, so how do you make the right choice when it comes to the big decisions, like buying a second home overseas?
Make your purchase eco friendly by choosing a development that places the environment at the forefront of what they do, such as 46o North - a collection of luxury log cabins in Mont Tremblant, Quebec.
Each individually crafted cabin, set in one to five acres of land, has been designed to offer all of the creature comforts and high specifications you'd want from a second home but anyone buying a property here can do so with a clear conscience.
Lang Walker, Executive Chairman of Walker Corporation which is building 46o North said: "Our log homes fit the move towards greater environmental awareness. Each home is built from sustainable materials, using fire-killed wood, and their insulation makes them very energy efficient. We took great care with the build program, designing it to cause minimum disruption to the existing environment and carefully positioning homes, along with roads and walkways, to ensure they sit sympathetically alongside the Canadian countryside."
The development, set on the edge of Lake Mitchell in 500 acres of wilderness, is designed to offer the perfect year round retreat from the hustle and bustle of everyday life and a true taste of Quebec's nature wilderness.
All homes will benefit from spacious living accommodation, double height windows offering views of lake, forest or brooks, a mezzanine floor offering fantastic views of the landscape, a modern fully fitted kitchen, en suite bathrooms, real stone fireplace designed to be the heart of the home, and French doors to a spacious sundeck with terrace for BBQ. Some homes also have garages.
Lang adds: "When it comes to sustainable developments 46o North fits the bill and anyone looking for an 'eco friendly' home overseas should definitely contact us to find out more."
Prices currently start from £251,000 and homes range in size from 2818 sq ft to 4348 sq ft. For further information, visit resort46N.com