On the search for the 'Mr Right' of Canadian property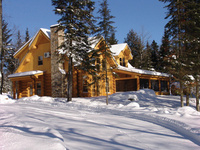 For more and more of us the search for the 'right' investment, the 'right' location and the 'right' property overseas are all important considerations and as the world becomes even more accessible the choices are seemingly endless. But how do you know when you've made the right choice?
For a group of French speaking young people their quest for the 'right' choice has taken a slightly different turn as filming of the fifth series of Double Occupation - Canada's version of the popular US and UK series, The Bachelor - recently began at the popular development of Fiddler Lake in eastern Canada.
A programme inspired by peoples search for Mr and Mrs 'Right', the Double Occupation production team chose Fiddler Lake for its stunning properties which incorporate both modern style and spacious living areas all with the romantic feel of lodge tradition; the perfect atmosphere for such a task.
"Couples are set challenges that involve travelling to other countries as well as taking part in activities within Fiddler Lake" says John Prior, Principal of Undiscovered Properties who sold the bespoke homes. "The team at Fiddler Lake have been very excited to welcome the production crew and cast of Double Occupation and the series' popularity goes from strength to strength."
Already a fashionable location with celebrities such as Ultravox's Midge Ure who owns a home at Fiddler Lake, Prior goes on to say, "The recent arrival of the Quebec TV network TVA highlights the unique, private and exclusive qualities of this resort."
Fiddler Lake is now virtually sold out but there are 10 new plots that have become available due to the relocation of the boutique hote and the developer has a sister resort of Eagles Ridge Golf and Country Club which can be found 15 minutes drive from the popular resort of Mont Tremblant, which is a newer project and construction is well underway, there are a number of magnificient plots still available. The luxury lodge properties are set within 1,800 acres of natural woodland surrounding 5 freshwater lakes. Eagles Ridge is only 90 minutes away from the cosmopolitan city of Montreal with its international airport connected by direct flights to over 120 destinations around the world.
The 3, 4, 5 and 6 bedroom lodges of Eagles Ridge are the perfect retreat for all the family and the unique styles and features give owners an exclusive property in the heart of Canada. Prices from £249,000 / $448,600, for more information, visit undiscoveredproperties.com