Yet more silverware for Morocco's Le Jardin de Fleur resort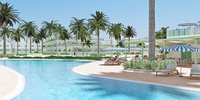 Winning awards is becoming a bit of a habit for the Le Jardin de Fleur projects on Morocco's northern Mediterranean-facing coastline. Already with a cache of silverware in the cabinet, the Radisson Resort & Spa Suites beachfront aparthotel, one of 11 distinctive residential options within the Le Jardin de Fleur fold, has just picked up a silver in the Barclays-sponsored Homes Overseas Awards 2008 for Best Development Morocco. What makes them so special?
Andy Welland from appointed selling agent GEM Estates comments, "The very fact that Radisson Hotels & Resorts has chosen Le Jardin de Fleur for its first foray into the Moroccan market is endorsement enough. Radisson is committed to a long-term agreement to manage the resort with clients benefiting from a lucrative leaseback arrangement. The aparthotel then displays a myriad of award-winning attributes from contemporary-Arabic architecture to an absolute beachfront location and all units with uninterrupted sea views."
Andy continues, "Facilities at Radisson Resort & Spa Suites are wide-ranging to attract both the tourist sector and with the presence of conference halls, a business audience. Plus the golf, marina and shopping experience of Mediterrania Sa?dia itself is of course at the owners' disposition. And then there's the special touches for example the developer has raised ground level by three metres to maximise sea views whilst all owners receive a multifunctional Member's Card to gain entrance access. All of this adds up to Radisson Resort & Spa Suites being a GEM Estates best-seller and of course a worthy award-winner."
The 384-room Radisson Suites comprises spacious sea view one and two bedroom apartments, suites and duplexes. Each has a fully equipped kitchen and is delivered luxuriously furnished. Set in lush tropical parkland, the aparthotel has three lagoon-style swimming pools overlooking the beachfront and facilities include a 1,500m² Moroccan-themed Spa & Thalassotherapy centre on two floors, a gymnasium and fitness centre, three restaurants, three bars – two on the rooftop with panoramic views and one poolside - a conference and banqueting centre, beach club and children's club.
Prices here start from 1,270,681.13 MAD (approx 113,797 euros or 104,476 GBP) for a one bedroom apartment with up to eight weeks' personal use factored in each year and completion is expected for mid 2010.
For further information, visit gem-estates.com