The ideal armchair investment with personal use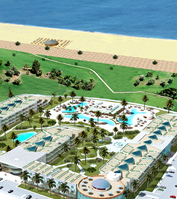 Property Logic commenced 2010 by releasing a special promotion on its award winning Le Jardin de Fleur resort in Saida, Morocco. In order to adapt to today's market, clients now have the opportunity to own a freehold beachfront 5 star property which will be managed by Radisson Blu, on Morocco's Mediterranean coast with low entry point payment conditions.
The developer is offering low entry cost (from as little as €9,450), minimal monthly payment plan during construction, guaranteed mortgage on completion followed by no payment for the first 3 years. And owners can enjoy the benefits of high growth returns through leaseback system. In addition to 8 weeks personal use per year, property owners will receive an estimated 7 to 9% ROI after the first 3 years.
Managed by Radisson Blu
All of the sea-view properties are luxuriously furnished to five star standards. The impressive development offers full hotel facilities including, spa, gym, restaurants and lagoon pools managed by Radisson Blu.
Mediterrania Saidia – the exotic Mediterranean
The resort is located in Mediterrania Saidia - the Morocco Plan Azur project that was officially inaugurated in June 2009 and features 6 km of beaches, a 1350 berth, marina, 3 golf courses (the first of which is managed by Troon Golf), and a commercial centre with shops, restaurants and entertainment. The 7 million square metre resort is served by three international airports, Oujda, Nador and Melilla – all less than 3 hours' flight from most European cities.
"We feel this new offering is better adapted to today's market. It is a chance to offer a very high quality product, but with a low entry and low risk purchase plan, which will ultimately lead to a win-win situation for all parties," comments Antoine Pellet, Investments Director at Property Logic.
For more information about Property Logic's developments, visit property-logic.com.