Yves Saint Laurent's villa in Morocco for sale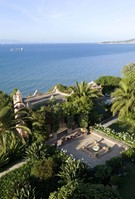 Yves Saint Laurent's Villa Mabrouka, or the House of Luck, is an oasis of exceptional quality perched on a cliff overlooking the coast of Andalusia and the Strait of Gibraltar. Imbued with Saint Laurent and Pierre Bergé's refined aesthetic and sophisticated taste, this serene walled complex is being offered by Majorelle Investissement SARL of Marrakech, with international marketing services provided by Christie's Great Estates.
"Yves Saint Laurent's Moroccan retreat—with its esteemed provenance, masterful execution, flawless condition, and originality—is distinguished as being among the rarest of real estate offerings worldwide," says Kay Coughlin, President & CEO of Christie's Great Estates.
Christie's Great Estates is a subsidiary of Christie's art auction house. Christie's, in collaboration with Pierre Bergé and Associates, announced this week that it will offer the second sale from the Collection of Yves Saint Laurent and Pierre Bergé in Paris on 17th, 18th, and 19th November 2009. The sale, with almost 1200 works of art, is estimated to achieve between €3 million and €4 million. Contents from Villa Mabrouka are not included in the November sale.
Villa Mabrouka is a haven of privacy with generous space devoted to both entertaining and peaceful solitude. Graced with two airy master suites and three additional bedrooms, the home is perfectly appointed to welcome family and guests. A large professional kitchen can facilitate any social function. Ample staff accommodations complete the estate.
Jacques Grange, respected worldwide for his interior designs, perfectly executed the former owner's vision while accentuating the home's clarity and space. Villa Mabrouka's English style, with its chintz-furnished color themes, melds perfectly with the city of Tangier and its past while reflecting the avant-garde sensibilities of Yves Saint Laurent.
Landscape architect Madison Cox designed the gardens with towering palms, lemon trees from Italy, and rolling lawns to frame the unfettered views across the sea. The swimming pool, also offering sea vistas, was excavated into the mountain rocks; architect Stuart Church designed its pavilion as a temple of relaxation. Multiple verandahs and patios are perfectly positioned to take full advantage of the breathtaking sea and garden panoramas.
Villa Mabrouka was owned by Sheika Fatima bint Fahd bin Salem Al Sabah of Kuwait before Yves Saint Laurent and Pierre Bergé purchased the property in 1998. The estate is located five minutes from downtown, next to the Kasbah, in a quiet and well-protected residential enclave accessible by car.
The property is offered at Price Upon Request to qualified buyers.
For more information, visit christiesgreatestates.com