A Brazilian try before you buy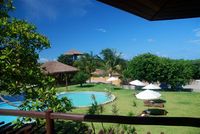 "Which country; which property; is it a fair price; is my estate agent telling the truth?" Buying overseas creates enough headaches to make anyone want to pack it all in and go on holiday. Well why not kill two birds with one stone and Samba your way over to Brazil's breathtaking beaches and take up residence in Pipa's Morada dos Ventos? This boutique condominium resort is complete, open for paying guests and also on the market via uv10.com for as little as 199,800 BRL (approx 59,907 GBP) for a one bedroom penthouse.
Samantha Gore, Head of Sales and Marketing for Brazil experts uv10.com comments, "The Scottish-Brazilian husband-wife team who masterminded Morada dos Ventos preferred to complete the resort before actively bringing it to market in order to offer maximum reassurance to investors. Now they have one of the most special resorts in Pipa, a 'condominium pousada' with just 16 spacious apartments where every imaginable whim is catered for - including breakfast in bed. Would-be owners can sample a suite from a crazy 110 BRL (32.99 GBP) per couple per night on bed and breakfast basis and then, if it feels like home, make a purchase and have these accommodation costs refunded. It's the ultimate 'try before you buy'. But be warned, you may well fall in love with both Pipa and Morada dos Ventos so make sure you pack your cheque book in the suitcase."
A condominium pousada (guesthouse) is quite a common arrangement in Brazil and the country has specific laws to govern their set-up and management and also to protect buyers. The Brazilian condominium structure allows for fully documented freehold ownership by individuals who then contract the management of the resort - in Morada dos Ventos' case Archie Galbraith and wife Tania. The advantages are plentiful, the strongest being that the apartments are delivered fully furnished to a high standard - down to the teaspoons and bath towels, hotel-style services are on-tap, rental returns are well above average and personal usage is permitted at a very respectable three months each year.
Samantha continues, "At Morada dos Ventos 'hassle-free holiday ownership' is the mantra. In return for 50% of the rental income absolutely everything is taken care of on behalf of the owner from maintenance and furnishing to payment of all utility bills and community fees, 24-hour reception and a daily change of towels and bed linen. Although there is no rental guarantee, buying in an area like Pipa with an active and well-established rental market means that there's good money to be made regardless. At Morada dos Ventos conservative projected rental returns are 8% per annum, so expect a 100% return on your investment in around 12 years; that's without factoring in the current 20% per annum capital appreciation attributed to strict conservation laws and therefore a limited supply of accommodation in Pipa."
In a country like Brazil where mortgages to foreign nationals barely exist, a completed property can feel daunting as there are no manageable stage payments - except at Morada dos Ventos that is. The resort owners are able to offer an interest-free payment plan consisting of a 5% deposit with the remaining payments made in 25% tranches spread out over a full 12 months. But don't worry, you can have the keys and enjoy the best of Brazilian hospitality right from your very first payment.
Set in Pipa, Natal's 'global village', Morada dos Ventos comprises 16 elegant and spacious apartments surrounded by lush tropical gardens with freeform swimming pools and poolside bar. Selected ground floor units are wheelchair friendly whilst all access paths are ramped and there is a welcome absence of steps in public or social areas. Although there is 24-hour security for peace of mind, the pousada occupies a quiet and safe residential zone within ten minutes' walk of Pipa's legendary beaches, restaurants and nightlife. The pousada's owners will happily arrange all activities from horse riding to kayaking, hang gliding to beach buggy trips and also facilitate the hire of cars or motorbikes. Natal's International Airport is just 80km to the north of Pipa.
Prices at Morada dos Ventos start from 199,800 BRL (approx 59,907 GBP) for a one bedroom penthouse of 93m² constructed area and from 255,960 BRL (approx 76,788 GBP) for a two bedroom garden apartment of 102m². All properties are delivered fitted and furnished together with the option of that interest-free 12 month payment plan. Prices are due to increase in March this year to the tune of 5%.
For further information, visit uv10.com