New sculpture at Waterstone Park represents the history of the area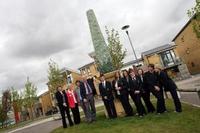 Eight dedicated pupils from Swan Valley Community School have taken part in the unveiling of a sculpture at Waterstone Park, the popular development near Bluewater in Kent by Countryside Properties and Land Securities.
The sculpture is the masterpiece of local artist Tim Carrington and is now the focal point at the Waterstone Park Development.
The 15ft sculpture has been meticulously made from over 13,000 individual pieces of recycled glass taken from the Thames foreshore at Greenhithe. The glass comes from the remains of old factories and wharves that at one time lined the river. The length of time the glass has been in the river results in each piece of glass possessing a unique translucence.
Tim Carrington states "The unveiling is the culmination of 2 years work of planning and fabrication - it's been a privilege to produce a piece of artwork within my own community whilst also working with members of it."
Suzanne Kemmenoe, Land Securities Community Relations Manager, comments: "We are thrilled that the children have helped complete the sculpture at Waterstone Park, it looks fantastic! Not only have local materials been used for the sculpture but the glass has been recycled. At Waterstone Park we have gone to great lengths to conserve and enhance natural features wherever possible. It's great to see the younger generation get involved."
The sculpture celebrates a former Greenhithe resident, Sir Erasmus Wilson (1809-1884), who financed the transportation of `Cleopatra's Needle` from Alexandria, Egypt to the Thames Embankment in 1878. Sir Erasmus, one of Britain's first Dermatologists was also a Philanthropist and well known Masonic Mason – there is still an Erasmus Wilson Masonic Lodge in existence today in Gravesend.
Sir Erasmus's father came to Dartford as Apothecary and Surgeon to the Workhouse, at the former site of the now redundant West Hill Hospital. He previously served as a Naval Surgeon under Admiral Nelson. The act of his son Erasmus to bring Cleopatra's Needle to the Embankment was very possibly due to his wish to commemorate his father's Naval service – the obelisk had been presented to England in 1819 by a grateful Mahommed Ali for ridding Egypt of the French but until Sir Erasmus came along no one and the motive and money to pay for the transport
Residents at Waterstone Park will be able to enjoy the Obelisk both day and night as the glass sculpture is lit by Low Energy Diodes (LED's).
Ian Hepworth, Sales Director for Countryside Properties, says:" The local school kids and Tim Carrington have done a fantastic job. We are sure that the residents at Waterstone Park will continue to enjoy this sculpture for years to come!"
Waterstone Park is a new residential community comprising one and two bedroom apartments and three, four and five bedroom homes with prices ranging from £165,000 to £400,000. Set in 7 acres of landscaped parkland, Waterstone Park is only a 40 minute commute to central London.
For further information on all current properties at Waterstone Park, visit waterstonepark.co.uk.