Building communities for life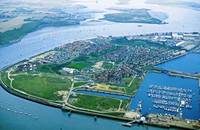 The picturesque St Mary's Island overlooking the Medway near Chatham in Kent, is a 150 acre residential redevelopment that is pushing the boundaries of regeneration by creating a truly sustainable community. The island forms a refreshing new community and will provide residents with a complete lifestyle choice within a lively community for generations to come.
Countryside Maritime, a joint venture company between the South East England Development Association (SEEDA) and Countryside Properties, has carefully considered the redevelopment on the Island, and has ensured that it has been designed to create a safe and peaceful environment that is ideal for families.
Countryside Maritime recognises that sustainability goes beyond the facilities provided for a local community and the impact on the environment has been carefully considered. It was the first housing development in the South East (outside of London) to receive an environmental EcoHomes rating of 'Very Good' by the Building Research Establishment (BRE) for a large (i.e. over 50 home) housing development.
Eco-building is not just about using environmentally-friendly materials or energy efficient appliances, it starts right at the planning stage. To begin with, each phase of development is devised to maximize the number of homes with north/south, southwest or southeast orientation. This increases passive solar gains, giving the potential for roof-based solar water heating, which some of the homes already have.
Each of the properties include features such as large windows which flood the main living areas with natural light, reducing the need for artificial light, and high levels of CFC-free insulation to reduce heat loss. Dual flush toilets and spray taps reduce water usage, and low energy light fittings and high efficiency condensing boilers with low nitrogen oxide emissions reduce energy use, all of which will help keep utility bills low and use less resources.
Sustainability is central to the ethos of St Mary's Island and Countryside Maritime has aimed to create a community that will grow and evolve. The main focus of St Mary's Island is the community centre which has been built to provide a place where the local residents can come together. The centre features a number of flexible facilities and contains four different areas that can be linked for larger occasions and divided to accommodate a variety of uses.
As well as the community centre, facilities on the Island include a doctors' surgery, a pharmacy and a new primary school all set within 20 acres of dedicated open space. The Church of England (aided) primary school opened in 1999 and has been designed to accommodate over 400 children, with up to 60 children in each school year. Like the Community Centre this building has been designed with local residents in mind and is also adapted to provide facilities for a church meeting every Sunday.
Furthermore, the local facilities, such as the surgery building are highly sustainable, incorporating renewable energy technology such as solar panel water heating and photovoltaic cells, helping to keep running costs to a minimum.
Yvonne Hudson-Green, Sales and Marketing Director for Countryside Properties comments: "St Mary's Island is an exciting and ground-breaking development where we are dedicated to providing sustainable homes that will be enjoyed for many generations to come. It offers homebuyers a real lifestyle option as well as homes that have minimal impact on the environment."
On the island a network of traffic calmed roads, footpaths and cycleways give priority to cyclists and walkers, with most of the walkways designed to take people through the many green spaces. Home zones have been created, providing an alternative traffic calming method to speed bumps. These include raised flowerbeds, hedges and other street furniture, which reduces local traffic speeds to below 20mph, enhancing the appeal of the island for families.
Work has now begun on the next riverside phase of St Mary's Island, Ventura Riverside, which launches in Autumn 2007. To register for this phase, visit Stmarysisland.uk.com.