Italy takes property spotlight and targets UK buyers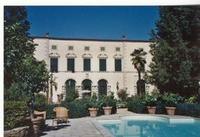 For those considering a second home in Italy, emigrating, or even selling their Italian property, the Salone Immobiliare real estate expo in Florence next March is gearing up to be a major event on the international property calendar.
With current property booms in the UK and abroad, Italy has taken a major step into the international property spotlight with the launch of its first real estate expo for purchasing property in Florence and Tuscany.
Salone Immobiliare real estate expo, is to be held in Florence next year between 29th March and April 1st and will offer UK property buyers and investors an exclusive opportunity to access crucial property contacts. Buying or selling a home in Italy can be time consuming and frustrating if not armed with the necessary information and procedures. Bringing this altogether under one roof is the show's major selling point.
Alessandro Nosei of Salone Immobiliare explains; "We wanted to ensure the show would represent a 'one stop shop' especially for overseas visitors who would normally have to spend months obtaining contacts and information. We have brought together more than a hundred exhibitors including estate agents with over 10,000 properties complete with pictures, floor plans, maps and background technical information. In addition there will be developers and construction companies offering new houses for sale in Florence and the countryside, and with the Italian banks present, it will be possible to estimate loans or gain invaluable financial advice. At the show it really will be possible to find and buy or sell a property in just one day."
Italy is in the top three favourite European destinations for UK buyers. It is a country with spectacular scenery and for a property buyer, can be good value for money. There is a good choice of direct flights from the UK to all the major cities including Rome, Venice and Milan with British Airways, Easyjet and Al Italia, and Ryanair run direct daily flights to Pisa, (Florence).
The climate in Italy ranges from very cold in the Alps in winter (but great for skiing), to a pleasant summer that is generally very hot and dry with welcome sea breezes on the coast. Tuscany, one of Italy's most beautiful regions, offers ravishing countryside and old rustic properties.
Recent research estimates 2.2 million Brits own a home overseas and approximately 130,000 more are buying homes in France, Italy, Portugal and Spain each year. Property prices in Italy have increased by approximately 8-10% per annum with the more popular areas increasing by as much as 25% - particularly in the South.
For anyone considering a move or property investment in Florence or Tuscany, a visit to the Salone Immobiliare real estate expo, March 29th to April 1st 2007 in Florence, should be compulsory.
For further information, visit saloneimmobiliare.it or realestatexpo.co.uk.