Property web site launches to meet demand for a place in the Italian sun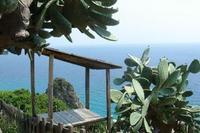 Calabria, located in the southern "toe" of Italy's stylish boot, has long been a magnet for the discerning holidaymakers of Milan and Rome. Now it seems bargain-hungry British and Irish property-buyers are looking for a slice of la dolce vita too.
Since the arrival of regular Ryanair and ThomsonFly flights into the region, local property specialists InCalabria Ltd have experienced a huge surge of interest in their developments. To meet the increasing demand, they have launched a UK version of their popular website together with a dedicated Property Forum where off-plan buyers can discuss their experiences.
Dennis Onstenk, Founder of InCalabria Ltd said, 'We have lived in Calabria for many years and pride ourselves on the fact that our local experience and network enables us to offer some of the very best properties in one of the most beautiful yet often overlooked areas of Italy. I'm delighted that through our new www.incalabria.co.uk website and dedicated Property Forum we will be making it easier than ever for property buyers to find their dream home in Calabria.'
Mr. Onstenk says the Capo Vaticano region is proving especially popular and of the five 3 bedroom bungalows he was selling at Casa Santa Maria, there is now only one left. At Il Casale di Capo Vaticano, a luxurious development designed by renowned architect Luigi Giffone, 50% of the exclusive apartments planned for the 18 acre countryside plot were sold within just weeks of their release.
With even more developments planned, InCalabria Ltd is the ideal starting point for property buyers looking for their own place in the Italian sun. Mr Onstenk added, 'Calabria has a great deal to offer, not least of which is affordable property. Italy is a founder member of the EU, our transport links are excellent and, of course, the climate is wonderful. The attractions are endless and we are expecting more and more people to 'discover' Calabria in the coming months.'
It's a view echoed by International Living magazine, a leading resource for helping people live, travel, and prosper overseas. In their first annual forecast of the hottest international real estate markets, Calabria is one they're watching closely, saying it's, "A hidden, sun-kissed corner of Europe, it is encircled by clear silver-blue sea on three sides. Despite the region's obvious allure, almost nobody knows about it."
All this looks set to change as more savvy investors in the UK and overseas discover exciting new routes to buy through InCalabria Ltd. For more details of the properties currently available in this emerging European hotspot, visit the website at incalabria.co.uk.