Perfectly preserved water mill in Emilia Romagna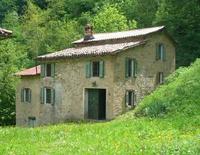 RealPoint Property is pleased to bring to the market one of the few remaining water mills in the Bolognese Apennines that has been preserved. Dating from the 15th Century the mill retains all of its original mill stones and mechanisms including the water wheel. With such history and its superb condition, which has weathered well down the centuries, interest is expected to be high.
Eddy Crompton Director of RealPoint Property says, "Mulino Bologna is ideally situated. It is located in Bologna, the capital city of Emilia Romagna between the Po River and the Apennine mountains. Bologna International Airport is in close proximity and Bologna is the hub of the Italian train network with the Eurostar from Paris stopping here, making this an ideal holiday home which is easily accessed. Just 30 minutes from the centre of Bologna and the Tuscan border, Vergato is the town voted by Italians as the place they would most like to live!"
Mulino Bologna offers superb accommodation and boasts three good sized bedrooms on the top floor. The main living areas are located on the ground and lower ground floors and incorporates kitchen living room with an open fire place. In addition to the wine cellar there is also a barn with vaulted ceilings which would be ideal to convert to additional accommodation. Both buildings are built in traditional stone and are in excellent structural condition sitting on land of some 30,000m2 of woodland and pasture.
Eddy continues, "Although some restoration work is needed the overall condition of this property is tremendous given its age. This is an ideal restoration project which could be a superb investment opportunity given its location and history. The town of Vergato is a highly sought after location and boasts many traditional restaurants, pizzerias, cafes and ice cream shops. Set around a traditional village square not much has really changed over the years and those looking for 'traditional Italy' would be hard pushed to find anywhere more authentic than this."
Mulino Bologna comes to the market at just £350,000 and for those interested in converting this property or similar properties, please visit the website at www.realpointitaly.com to see their specialised pages on restoring properties in Italy.
RealPoint Property markets a wide range of properties throughout Italy and offer a personalised service to all potential buyers, speaking in English and advising clients every step of the way.
For more information, visit realpointproperty.com.