Perfection in Potenza Picena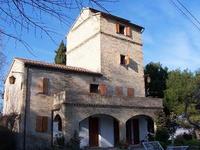 Le Marche is being heralded as the alternative Tuscany, and with good reason. Located on the Eastern coast, this is an agricultural region of rolling countryside, mostly unspoilt, with 180 km of Adriatic coastline. Bounded by the magnificent Sibillini Mountains, which form part of the National Park and Nature Reserve, this is a wonderful area in which to live and invest – and here lies the important part – coastal property is especially good value compared to Tuscany.
"A beautiful six bedroom villa in Tuscany within say, half of a mile of the sea, would cost over 1million euros (around £690,000). A similar property on the Le Marche coast would cost just £303,000/euros 440,000. This of course is a considerable saving" says Linda Travella of Casa Travella, specialist in the sale of property in Italy for 20 years.
Along the coastline there is a wide variety of towns and resorts, big and small, such as Fermo, Grottammare and San Benedetto, and the surrounding countryside is dotted with unspoilt, pretty villages where life takes on a restful air.
"If you want to buy a coastal property and to enjoy the Italian way of life but are restricted by funds, then the coastal regions of Le Marche are a very good bet", adds Linda "There are also some marvellous value for money properties inland, which, because of their uniqueness, are not only a pleasure to own but are equally likely to afford good capital growth".
One such development in Southern Le Marche intrigued Peter Snow and his wife Lisa together with their two young daughters Isabella (7) and Milly (3). They bought a two bedroom apartment for £80,000 with private garden and shared pool. The property is a converted fort which sits on a hill with fantastic views in all directions. Its location alone ensures that nothing can be built to spoil the view.
"We had never bought abroad before", says Peter "so we were naturally cautious. We wanted somewhere for us to make regular visits and where we could interact as a family away from the noise and stress of everyday life. In fact, Lisa and the children are spending the summer holidays there and I intend to make frequent weekend visits."
Peter bought through Casa Travella, so he was advised from day one on area, value for money, rental, capital investment potential, and how to buy in Italy. It was an all round service that can only be provided by a company which specialises in a country and can count on years of experience to enable a client to buy a property which is right for their particular needs.
Concluded Linda "Clients often come to us having had a holiday in Italy. They know how much they have to spend but are often blinkered as to which area is best suited to their budget and lifestyle. What I like to do is take time from the start to fully understand what they want the property for, and then build on that. Sometimes literally!
Le Marche has much to offer and with prices being very competitive I can see this area continuing to rise in popularity over the years as UK residents become more familiar with what it has to offer."
PROPERTIES AVAILABLE
Rotella, restored fort, currently has available two bedroom apartments for £82,000/118,000 euros.
Typical Le Marche style house at Massignano, in three acres, 3kms from the sea and with sea views. To restore. £131,000/190,000 euros.
For further information, visit casatravella.com.