Montalcino, Italy - Follow in the footsteps of the stars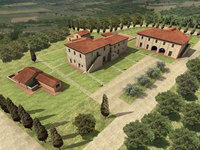 Montalcino has long been associated with the stars, with regular visitors including Anthony Hopkins, Meryl Streep, Sharon Stone, Mel Gibson and Royalty topping the list. These big names in conjunction with the recognition earlier this year that Montalcino has now become a world heritage site by UNESCO, is paving the way for property development.
It is these developments that set Montalcino apart; the attitude of the local council is to preserve the identity of the town while actively promoting sustainable development in an area that is rapidly revealing its true potential on the international stage.
Montalcino is already world famous for the excellent Brunello wines produced here, actually winning 'best wine in the world' 2006 as voted by Wine Spectator magazine. However the association with wine is not the only reason property in the area is becoming an attractive investment. The beautiful location, thermal spas and new state of the art luxury golf course all help to consolidate Montalcino as a 5 star Tuscan destination. What is also appealing is the quality and diversity of the festivals here that take place annually. In addition to the wine and food related events there is an annual jazz festival which plays host to a number of international musicians, with open air concerts taking place throughout the summer months, which culminate in the Montalcino festival of theatre and music in August which results in locals wearing medieval costumes producing a riot of colour.
Eddy Crompton Director of RealPoint Property says, "The summer months in Montalcino produce an amazing spectacle with a real sense of belonging as everyone joins in the festivities. This feel good factor, the beautiful landscapes and differing styles of architecture from bygone eras is now helping to promote the regeneration of certain areas."
RealPoint Property has recently formed a partnership with an established Italian developer to bring an exciting and profitable project to the international market. La Rancia, is an exclusive estate totalling 1,600 square metres, which will see the regeneration of existing stone buildings using eco friendly building methods, original materials and artisan craftsman.
The development consists of two fully restored manor houses divided into independent apartments plus three secondary buildings which will offer detached properties with private gardens. Each property will be finished to the highest standards. Air conditioning will be standard as will luxury fitted kitchens and tiled bathrooms. With outstanding views from this prominent position they present the perfect holiday setting.
Eddy continues, "The benefits of owning here are tremendous. We anticipate capital growth of 15% per annum with guaranteed rental of between 3 to 5% over three years. There are 100% mortgages available subject to status and a low entry level, with only 20% down and nothing else to pay until completion. With prices starting from just £142,000, interest will be high."
RealPoint Property markets a wide range of properties throughout Italy and offers a personalised service to all potential buyers, speaking in English and advising clients every step of the way.
For further information, visit realpointproperty.com.