Cefalu, Sicily - A medieval town welcomes new developments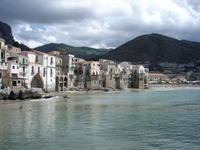 A recent report has highlighted just how much the Italian property market has been transformed in recent years. Figures estimate, that by the end of 2007 there will have been a 28.5 billion Euro increase in the real estate market over the last 6 years, making it the largest asset class in the private Italian sector ahead of even insurance and banks.
Eddy Crompton, Director of RealPoint Property says, "Italy has benefited tremendously since the millennium and recent years have seen many new areas opening up as flight routes increase due to popularity. The Italian property market is riding high and it is the new areas that are reaping the rewards. Sicily is one region that has perhaps been overlooked in recent years, but now it is coming to the fore and interest in this island, that is host to medieval villages, boasting a wealth of heritage and culture is starting to increase."
Cefalu in Sicily started life as a sleepy fishing village, perched between the sea and the limestone promontory. However its long sandy beaches and idyllic waters have also made it a thriving holiday destination as tourists flock to view this medieval town with its narrow streets, elaborate architecture and its glorious Romanesque Cathedral which towers above it. The fisherman's quarter with its old houses clustered along the seafront is a reminder of days gone by and is still active today but it is the increasing tourist numbers that have helped to regenerate this bygone town.
RealPoint Property is pleased to bring to the market, Mare Luna and Pollina Cefalu developments offering a selection of two and three bedroom apartments just 15km from Cefalu. Both developments benefit from a superb location being close to Palermo Airport and Mare Luna is only minutes from a new 18 hole golf course. The apartments are elegantly and sympathetically designed, each with a distinctive character. The resorts will have tennis courts, a large swimming pool and are only minutes away from the local sandy beaches.
Eddy continues, "The cost of living here is very competitive when compared to similar islands such as Crete. This development will provide an excellent holiday home but will also appeal to the investor who wants to get into a growing market with excellent potential for capital growth and a strong rental market."
Prices start from just £85,115 for a two bedroom apartment.
RealPoint Property markets a wide range of properties throughout Italy and offers a personalised service to all potential buyers, speaking in English and advising clients every step of the way.
For further information, visit realpointproperty.com.