Prime Tuscany at affordable prices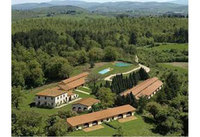 Savills International has recently launched an 18 unit farmhouse conversion of an 18th Century Tuscan Borgo. Set in 200 acres of Tuscan hill-tops, the estate is located just 20 miles south-east of Siena. The development comprises fourteen 2-4 bedroom houses and four apartments combining supreme quality with affordable prices, ranging from £218,000 to £517,000. Due to be completed in 2008.
Recent Savills Research shows that Brits dominate the inward flow into the Tuscan property market representing over one third of foreign buyers. House prices in these high demand locations has been substantial. One factor keeping the price of quality holiday home buoyant is that the supply is extremely limited. Turnover in the holiday homes market has been declining recently because of the supply shortage, with overseas buyers most of all being frustrated and unable to purchase. The Cignella Estate offers these buyers an answer without being beyond the realms of the average second home buyers budget.
The properties make the most of the original Tuscan architecture while catering to the requirements of the 21st century home owner. The new houses are constructed using a blend of traditional craftsmanship and materials, contemporary use of space and light and the latest energy efficient geothermic heating systems (dramatically reducing running costs). The open-plan design creates a spacious feel, while the eco-friendly construction reflects a belief in sustainable development and ensures a sound investment.
The properties include:
Access to two swimming pools
Large private gardens and terraces
Acres of woodlands
On-site caretaker
Additional full concierge service available
Naomi Greatbanks of Savills International comments: "Cignella offers buyers the very best of Tuscan architecture and landscape combined with modern technology and eco-friendly construction all at affordable prices."
The nearest town, Montefollonico, is just five minutes away; a quaint town where residents can find all amenities together with excellent shopping facilities, bars and restaurants. In addition, the Cignella estate is only a 30 minute drive from Siena, Cortona and Montepulciano, all three cities are distinct and individual offering all one could desire from a Tuscan town: signature cobble stone streets, grandiose and secluded piazzas as well as breathtaking views of Tuscany.
For further information, visit savills.co.uk.