Freddy Krueger brings horror to Calabria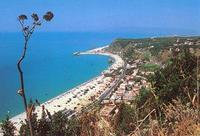 Robert 'Freddy Krueger' Englund who rose to fame as the razor-handed killer in the 'Nightmare on Elm Street' horror film series, is to shoot his own spine-chilling movie entirely on location in Calabria the Calabria Film Foundation announced this month. The film, starring Canadian actress Neve Campbell and veteran British actor Christopher Lee, is an Italian-American co-production based on a novella by Russian author Nickolai Gogol and will also star Italian heart-throb Raul Bova. Called 'The Vij' the film will be set in and around Pentedattilo, a beautiful Calabrian village set high up on a huge sandstone cliff with jaw-dropping views and of course the requisite castle in ruins.
A lot less frightening are the fantastic prices of property in this stunning area of Southern Italy which can still be snapped up for as little as £60,000. Calabria is Southern Italy at its most magnificent, and the coast facing Sicily was described by the poet Gabriele D'Annunzio as '…the most beautiful kilometre in Italy". Here you can find traditional culture, mouth-watering cuisine, fascinating history and architecture, watersports for the endless summer as well as skiing in the Sila Massif and a year-round calendar of colourful markets, festivals and pageants. The Sunday Times even put the Calabrian resort of Tropea at number one spot in its 'Top 20 Beaches' report of January this year.
The Italian greats of Tuscany, Lombardy, Veneto and Liguria are renowned the world over as a places of divine culture and beauty and the property prices in these regions reflect this. Surprisingly, Calabria is relatively unknown and has only recently begun its ascent as an up-and-coming market. This really is an incredible window of opportunity that families, holiday-home hunters, retirees and investors alike will not want to miss out on. The standard of living is high but the cost low and getting there from the UK has been made cheap and accessible by Calabria's recently expanded and refurbished Lamezia Terme Airport.
A new addition to GEM Estate's Calabria portfolio is Sersale Prato, a distinctive development of maisonettes and bungalows near Sersale marina on the instep of Italy's Calabrian region. The hillside position affords elevated views of the sea as well as the surrounding meadows. All homes comprise two bedrooms, one bathroom, open-plan kitchen, front terrace and large private garden. Lamezia Terme International Airport is within 45 minutes' drive and the historic cathedral town of Catanzaro within ten minutes. Prices at Sersale Prato start from 119,050 euros.
Take a trip to the location of a fantasy nightmare and wake up to a dream. GEM Estates invites prospective purchasers to take a look at Calabria property by way of a subsidized inspection trip. Provided you pick up the cost of the flights; see ryanair.com for schedules and costs, GEM Estates will cover the cost of three days and two nights five star hotel accommodation, all meals, transfers and the benefit of a sales consultant, lawyer and financier at your disposal throughout the trip. Should you make a purchase, GEM will refund your flight expenditure as a 'thank you'.
For more information, visit gem-estates.com.