Live the splendour of Florence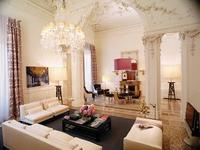 Knight Frank is delighted to announce its involvement in Palazzo Tornabuoni, the Florentine Renaissance palazzo and former home of Pope Leo XI of the powerful Medici family, which opens in the Summer of 2008 as Europe's first city-centre Private Residence Club.
The palazzo is situated in the heart of Florence, minutes from the Duomo and on one of the city's most exclusive streets – via Tornabuoni.
The 15th century palazzo is undergoing a meticulous restoration to open with 36 private residences, each one different, available from €199,000 for a studio to €480,000 for a two or three bedroom. Members can enjoy apartments filled with 16th century frescoes by Ciampelli, 18th century carved ceilings, an invaluable fireplace by Raffaelli, or even a top floor residence with spellbinding views over Florence's rooftops with the iconic Duomo at its centre.
The palazzo will also provide members with a library, cigar room and a selection of fine wines. Services will include daily housekeeping, a club sommelier, private chefs, childcare, private airport transfers, climate controlled wine cellars, pre-arrival grocery shopping and comprehensive and attentive club management to ensure that members can enjoy 'luxury without responsibility'.
Palazzo Tornabuoni will be more than a place to stay, owner members will also be provided with access to the ultimate Florentine lifestyle - through the club concierge and Palace Attaché. The service will place Tuscany at their finger tips with automatic membership to the new spa at the Four Seasons Hotel Firenze; entry to some of Tuscany and even Italy's top wine estates; private wine tasting tours; preferential access to private art collections, galleries and museums, the Fondazione Palazzo Strozzi, private tours of Duomo's cupola and tours of other ancient palaces; shooting and wild boar hunting weekends; invitations to previews of art and fashion collections; restaurant reservations; theatre tickets; golf; horse riding; Italian cooking classes and more.
Private Residence Clubs provide owner members with the lifestyle and financial benefits of a second home, without the responsibilities attendant with property ownership. At Palazzo Tornabuoni, there is a maximum of eight members for each of the residences and a maximum of 288 members in total. Members choose to buy into a category of residence and have unlimited, flexible usage, in accordance with the reservation policy. There is no limit on usage and no nightly lodging costs, no matter how often a member stays.
The reservation system works in such a way that it can provide unlimited access via Short Notice, Space Available and Planned reservations during the course of the year. Owner members can therefore use the club very much like a golf club, enjoying the facilities and services as little or as often as they wish.
Rupert Fawcett, International Residential Department, Knight Frank comments, "We are delighted to be involved in this exciting and prestigious new venture providing an affordable and convenient way to own in the heart of Renaissance Florence with none of the inconveniences usually associated with property ownership."