Buying abroad and you need income?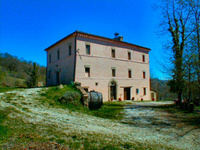 The British are emigrating in record numbers according to recent research with 1.8 million leaving the country since 1997.
"It was mostly the over 50's who used to buy in Italy ", says Linda Travella of Casa Travella, "but things have noticeably changed in the last 5 years and we are seeing much younger people choosing to leave the UK and live in Italy".
Certainly it would appear that the rising crime figures, economic pressures and of course the weather are encouraging emigration for UK citizens but many do not want to wait until their 50's or 60's to start a new life. They want it now! Buying a business abroad makes financial sense, particularly if the business is already set up and therefore there are records of turn over and profit, taking out the speculative element.
"Italy is a beautiful country with welcoming people", says Linda, "I have being selling properties to the British for around 20 years so I certainly know that buyers never regret their decision to live there. Buying a business is no more difficult than buying a home and often you can combine the two. What could be nicer than owning a successful business in the sun?"
Currently being marketed by Casa Travella are bed and breakfast businesses which include a very pretty villa in Pescara, Abruzzo. The modern property consists of two habitable apartments, one with three bedrooms and one with four. There is a garage and separate dwelling of some 150 sq metres where it is possible to develop a further two apartments.
The property sits in three quarters of an acre and is ideal for two or three families as a bed and breakfast or Agriturismo
Price 810,000euros/ £558,000
At Sarnano in Le Marche, we have a property currently run as an Agriturismo. It was built about 150 years ago and offers an amazing 480 sq metres of accommodation, plus an annexe of a further 50 sq metres. The property sits in 1.5 acres and there is a possibility of building a swimming pool.
Price 620,000 euros £427,000
In much loved Tuscany, there is for sale, a beautiful stone house set on three floors with panoramic views for 380,000 euros/£262,000. Just 8 km from Bagni di Lucca the house has been recently restored in a rustic style with high quality materials and has kept many of the original features.
It is surrounded by about 400 sq metres of land where it is possible to build a swimming pool. There is also an opportunity of converting the property into three apartments for rental purposes or into a bed and breakfast. There are currently five bedrooms with opportunities for more.
Concluded Linda, "With an increase of budget and scheduled airlines to Italy from many UK destinations, visitor growth is increasing and buying an established business of this type is very appealing and financially favourable".
For more information, visit casatravella.com.