Meteoric rise in buyers in Calabria – Italy's emerging new star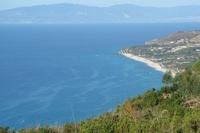 The Italian province of Calabria is seeing an unprecedented level of interest from overseas buyers according to Real Estate specialist, Dennis Onstenk of InCalabria Ltd.
He cites the Capo Vaticano and Tropea region as being particularly attractive to overseas investors as, "Rental returns in the Summer are amongst the highest in the region."
With an established infrastructure already in place to meet the needs of holiday-makers from Rome and Milan, the area boasts a range of leisure and sporting facilities, historic attractions and white-sand beaches that would not look out of place in the Caribbean.
Add to this heady mix, the attraction of property prices that start from just £62,000 and the availability of more budget flights from the UK and it's clear to see that Calabria is a star that's set to enjoy a meteoric rise.
Mr. Onstenk added, "Calabria has always been an undiscovered jewel, but it seems the secret is now out and more people than ever are discovering how affordable it can be to enjoy their own taste of la dolce vita."
Last week, the Telegraph stated that the growth of budget aviation was one of the main factors behind the regions' recent emergence as a hotspot for foreign property investors.
One particular development that's catching the eye of investors is Capo Verde di Parghelia, the first phase and front row of an exclusive mid-sized development located between the popular coastal resorts of Parghelia and Zambrone.
Overlooking Zambrone and the beautiful Aeolian Islands including the volcanic island of Stromboli, this select development is less than ten minutes drive from Tropea, the Sunday Times Number 1 European Beach Destination, and only 45 minutes from Lamezia Terme International Airport.
Prices here start at less than £80,000 and the views from the stunning headland are "priceless" according to Mr. Onstenk. For more information, visit incalabria.com.