A pizzo the action – Calabria's doorstep challenge!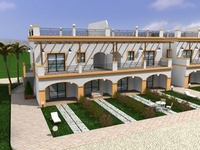 Would you rather step out of your home on to a cold, hard, grey pavement that reflects the colour of the sky with oppressive accuracy, shielding your face from the biting wind hurrying to get out of the miserable environment that surrounds you throughout the long British winter. Or would you prefer to take a chance on a better life and surround yourself with constant sunshine and blue skies as soon as you step out from your doorstep, holding your head up high to breathe in the heady scent of la dolce vita – the sweet life? In Calabria t can be yours for far less that you could imagine...
Pizzo is one of the most beautiful and famous towns in the Vibo Valentia district of Calabria in Southern Italy. Here, you can step out from your doorstep straight into the magical world of an ancient cliff-top village, filled with stunning ancient architecture, fascinating folk lore and history, one of the most appealing healthiest climates in the entire world and a fine-white sandy beach lapped by turquoise waters to rival any in the Caribbean.
Pizzo is a fishing town whose fish find their way to the menus of many famous restaurants throughout Italy. It has a long illustrious history, and according to local lore you would be in good company as the famous poet and philosopher, Cicero, who said "the greater the difficulty the greater the glory" once visited and St Peter himself stopped here for a while on his journey to Rome. Add to that the fabulous restaurant, and cafes, the water sports, mountain climbing, sailing and other outdoor activities and there really is no getting away from the fact that this is the ultimate sweet life. And even sweeter still is the incredible fact that you can buy property here for € 74,500!
Chris Sawyer from GEM Estates says, "Owning property in this sought after part of the world often appears to be reserved for the rich and famous, but regions such as Calabria, along the southern coast, offer the same charm for a fraction of the cost. Calabria is without doubt Italy's best kept secret, and people have just started to cotton on to this and have begun to snap-up holiday homes here for real bargains. Property prices in this popular Italian hotspot are certainly set to accelerate this year so now is undoubtedly the time for investors to grab a 'Pizzo the action' in picture postcard Italy."
Pizzo Beach Club is a five-star resort, situated on the shore of the Tyrrhenian Sea and within a short 15-minute drive of Lamezia International airport offering direct and inexpensive flights to the UK. The resort comprises of studios, apartments, penthouses and villas, each elegantly designed over two levels. The development also offers a football pitch, tennis courts, a clubhouse with restaurant and bar facilities as well as swimming pools and botanic gardens, perfect for relaxing, lazy or active holidays.
An ancient forest of pine and eucalyptus trees separates the resort from the beach, which is only a five-minute stroll from the resort. The enchanting forest will also offer additional activities such as an archery range and a relaxation area where hours can be whiled away relaxing on hammocks whilst listening to nothing but the soothing sound of wind and waves. The stunning beach will offer an additional beach club as well as a sailing centre for those looking for more adventure or action.
Pizzo Beach Club is bordered by a popular and always busy Club Med resort. The developers are currently working on a deal with the Club Med operators in order to offer many more facilities for residents of Pizzo Beach Club such as rock climbing, kayaking and sailing as well as numerous others. In peak season the Club Med site has to turn down holidaymakers which gives scope for strong rental income for Pizzo Beach Club owners. Expected rental yield is 10-15% and the resort is scheduled for completion December 2009.
Prices start from €74,500 for apartments and from €261,500 for villas.
For more information, visit gem-estates.com.