Free viewing trips to Italy for a limited time only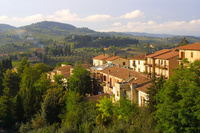 The charm of Italy is timeless, tempting many a property investor or holiday home purchaser to its shores with the promise of a luxurious lifestyle. It is this Italian charm that Barrasford & Bird Worldwide would like their customers, new and old, to experience by offering free viewing trips to Italy for a limited time only.
Property in Italy is a much sought after commodity, and it is this popularity that often drives property prices far above those that would usually tempt investors. However, the southern part of the country remains largely undiscovered by the ravages of tourism, and yet offers a special character that is sure to catch the eye of the more intrepid holidaymaker. Property here currently offers the same quality and character of its northern comparables, but at a fraction of the cost. Considering the rising popularity of the area, property prices will not remain this low for long.
One of the areas stirring the most interest is the delightful little fishing town of Soverato in the Calabrian province of Catanzaro in the southern Italian Rivera. The town is one of the best known and most beautiful tourist resorts on the Ionian coast. Situated just 35 minutes from the international Lamezia airport, makes this town an easily accessible weekend destination. With the completion of the new motorway, the journey time between here and the airport will be cut to just 20 minutes.
It is in this location where Barrasford & Bird Worldwide are marketing the delightful property at the San Sostene resort. This latest development is built on a panoramic and elevated location above the nearby town of the same name, offering unparalleled sea views. The resorts consists of 140 one bedroom apartments and three bedroom townhouses.
Robin Barrasford, Managing Director of Barrasford and Bird Worldwide comments, "With property prices from just £40,000, and a scheduled price rise approaching in February, we've decided to offer a restricted number of new and old clients the opportunity to visit this region of Italy free of charge. We will pay for flights, accommodation and the entire two night viewing trip for one person but investors must act fast as this opportunity isn't going to be available for long."
San Sostene will consist of a collection of apartments and townhouses with a comprehensive range of facilities including restaurants, shops, bars, fitness suite, tennis courts and more. The white sandy beach is a mere 1700m (one mile) away and certainly within a few minutes stroll. The popular Santa Catherina Golf Course is also nearby. These off-plan properties start at just £40,000. Payments can be made in stages throughout the build time, starting February 2008, with mortgages available from a variety of well known banks.
For further information, visit bandbw.co.uk
NOTE: Viewing trip terms and conditions apply.