Marinella Marina – Beachfront Italy at its most affordable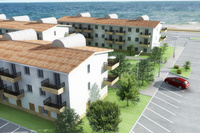 The resort of Marinella Marina in Italy's Calabria, the warm region that occupies the toe of the boot that kicks Sicily, is already a wise investment choice as there is plenty of capital appreciation to come from this undiscovered and therefore incredibly affordable coastline.
However, the news that a planning application for a marina within walking distance of the resort has been approved further reinforces this specific investment case.
With an unbeatable location, literally 50 metres from a sun-soaked sandy beach, Marinella Marina is a luxurious development of one and two bedroom apartments to be delivered with a basic furniture pack in which clients can choose colour schemes upon completion or upgrade if desired. Residents can take advantage of on-site facilities including a tennis court, two swimming pools, bar and restaurant whilst the rugged Apennine mountains, thickly wooded slopes and the sparkling Tyrrhenian Sea are all on the doorstep.
The marina, a short stroll away, will drive tourists to the area and is due to commence construction in the near future. Able to accommodate most sizes of yachts as well as offering full chandlery services, this harbour will certainly become a stop-off point for the many boats that tour the coastlines of Sicily, the Aeolian Islands and mainland Italy bathed in wonderful southern Mediterranean sunshine.
Prices at Marinella Marina are low, starting from 88,265 euros for a one bedroom fully furnished apartment. All payments are fully bank guaranteed. Capital appreciation is tipped to be between 15 and 20% per annum for the next five years due to low entry level prices in comparison with the rest of Italy, and the expected improvements in infrastructure as part of the Government's cohesion plan. The low-cost airlines are also doing their bit to up demand, Lamezia Terme Airport is just two-and-a-half hours by direct flight from the UK, and currently Ryanair flies five times a week from Stansted and ThomsonFly once a week from both Manchester and Gatwick.
For further information, visit gem-estates.com.