Rural Italy proves itself on the property investment market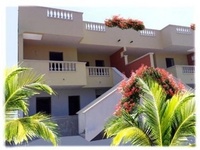 Overseas property investors looking to buy master class Italian real estate should look no further than San Pietro, Bevagna. This opportunity is simply incomparable to any other of its kind. The development and its 602 metre 2 bed apartments sit just 1 block from the sea road. They also feature a garden and private parking along with an accommodating 302 metre roof terrace or patio. They are currently available through overseas property investment specialists David Stanley Redfern Ltd from an incredible £80,291. The purchase process of these residential freehold properties includes the availability of 80% loan to value (LTV) finance, mortgage, rental management and on-site English speaking representatives who can assist with inspection trips which are available upon request. Notably, the site is under an hour away from Brindisi Airport.
Inherently charming San Pietro is a quaint and undeveloped seaside village on the Ionian coast and home to just 5000 people or so, who enjoy its warm Mediterranean climate and humble restaurants and bars, supermarkets, banks, and seaside related activities. Aside from the timeless sense of calm, tourists, many of which are Italian themselves, are attracted to its many churches, medieval walls, temples, theatres, caves, coastlines, farmlands, olive groves and nature reserves. All of which are unspoilt by multi storey buildings as they're not only disliked but prohibited in the area.
Bevagna is a largely unrealised rural area of Italy and hosts massive development potential, especially in light of the fact that such opportunities are becoming increasingly popular, particularly for British investors. With its close proximity to the nearest beach, investments in the area are surely going to prove financially rewarding. Italy's government provide special incentives for potential foreign buyers and reduced restrictions have certainly encouraged investment. Whether its financial or recreational reward you're looking for, San Pietro offers an abundance of either for any investor.
For more informtion about Italian investment property visit: www.davidstanleyredfern.com/investment-property/italy/