New investment property in Italy: Period apartments Tuscany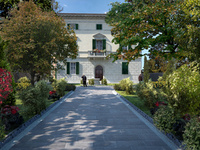 David Stanley Redfern Ltd, has just added another fantastic value stunning Tuscany investment property to their burgeoning port-folio of the finest investment opportunities in the industry. Potential investors with an eye on a holiday home in Italy should definitely take a look at Capannori luxury apartments, nr Lucca in Tuscany, on the DSR website. There they will find a charming period style apartment complex, with 1 bedroom apartments just £174,000. While that is slightly more expensive than our other property in Tuscany, it is still a very reasonable price for such a beautiful property in a high tourism area.
The Cappanori apartments are ideal as holiday homes, with the potential to make a good returns from rental when not in use. That is because areas like this are major tourism destinations, especially from western countries, and from the high end of the market with a lot of disposable income. Therefore solid rental can be achieved from being at the highest end of the holiday letting price scale.
Tuscany is one of the most popular locations in the world for British emigration, this too gives another rental opportunity from family members wanting to go out and spend time with their ex-pat relatives. But it is also testament to the many wonderful sights and charming characteristics that Tuscany is world renowned for:
Italy is famous for fine wine and fast cars, but Tuscany's abundance of nothing but period style property gives it a charm all of its own. Its Mediterranean climate and world class beaches are also attractions to tourists and property investors from around the world.
Buyers of these properties will enjoy the stability and security of knowing they have bought a fine property in one of the world's best and most established markets, making strong if not spectacular capital appreciation a given. There are some downsides to Italian property investment however, like 10-15% total transaction costs, pro-tenant rental laws, and rental yields having dropped to around the 6% mark. However, such small downsides are nothing against all the upsides of owning a beautiful property in a fantastic and popular tourist destination like Tuscany.
Find out more about Italian investment property at: www.davidstanleyredfern.com/investment-property/italy/