Italy hots up as the emerging European markets catch a 'chill'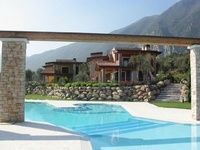 Italy has always been a popular destination for both tourists and investors, however exaggerated claims of property price increases in emerging European property markets had led to a slight downturn.
Fortunes have now been reversed and 'irrepressible Italy' as a tried and tested market has gained further ground. The East has definitely caught a chill!
Sarah Ferrara Director of Garda Homes says, "Italy was recently promoted into the top 5 countries of choice, by readers of a popular overseas property magazine. I am not surprised by this, as Italy with its own distinct wealth of beauty and architecture has always performed well.
With so many people now actively pursuing an overseas property investment, many have become aware that traditional markets such as Italy offer by far the best route to market. Italy is an established market that sees strong growth each year and is backed by an impressive rental market which is imperative to those who are looking to finance their property for the duration of their investment. To be successful in the overseas markets, property investors have to do their homework and they need to be sure that the country they are investing in has the right ingredients to safeguard their investment, the East at this time cannot subscribe to this; Italy however ticks all the boxes!"
Garda Homes are currently marketing, Residence Borgo Le Torri, in Toscolano Maderno offering stunning views over lake Garda and the surrounding mountains. This one bedroom, 1st floor apartment offering some 60sqm of living space provides an entrance hall, living room with kitchen corner, bedroom, bathroom and a large covered loggia for dining. There is also a communal swimming pool and private garage.
Residence Borgo Le Torri comes to the market at just £180,700
Garda Homes have a range of hundreds of Lake Garda properties through dozens of qualified local agents to suit all budgets and desires with prices starting from just £65,000 and rising up to £7 million, with new properties being added daily.
For further information, visit gardahomes.co.uk.