B&B opportunity in idyllic Tuscany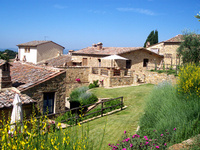 Dreaming of moving to pastures new? Fed up with the climate and ever increasing taxes? Precious Villas may have the solution! They are now marketing 'The Essence of Chianti' which will allow one lucky investor to realise their dream and to take to task the opportunity of running a B&B in the heart of the Chianti region.
Just four miles from Poggibonsi in the Tuscan countryside lies Sornano, a unique medieval village, which was once a rural farming hamlet. Home to just three families, one family has now decided to sell their part of the Borgo which has been divided into two properties and has been run as a successful B&B. This renovated Borgo maintains a timeless charm with the characteristics of the ancient farmhouses being carefully preserved both in materials and style during the current owners seven years of ongoing restoration work. With traditional architecture and boasting 21st Century facilities along with traditional Tuscan furniture dating from the 18th and 19th Centuries, the two divided properties now provides eight bedrooms and offers a sound business opportunity in beautiful surroundings. In addition there is a third property; a disused barn, which is currently being restored and will offer further accommodation upon completion.
Trinidad Passerini Managing Director of Precious Villas says, "This superbly redeveloped hamlet offers a wonderful opportunity for a family or individual to relocate to the renowned Chianti region and to have a profitable B&B business, offering the finest accommodation, ready to go. Surrounded by vineyards and olive groves and offering far reaching views, restoration projects of this magnitude providing an ongoing business opportunity rarely come to the market place. Just 18 miles from Siena and only 21 miles from Florence it is ideally placed and sees a high footfall throughout the year from Italians and foreign tourists who are keen to explore the surrounding countryside and history"
'The Essence of Chianti' is a combination of three properties set in landscaped grounds, with a swimming pool from its hillside vantage point.
Property A offers 2,530 sqft, with five bedrooms and bathrooms split over two levels. Currently it is divided into three apartments and also benefits from private gardens, courtyards and underground cellars. Price £980,450
Property B offers 1,937 sqft over two levels and is currently divided into two apartments offering three bedrooms and along with its large living space offers a panoramic square terrace of over 200 sqft. Price £720,000
Property C is currently undergoing extensive restoration and once completed will offer two bedrooms and two bathrooms along with a 3,500 sqft garden. Price £360,000
Trinidad continues, "Both property A and B are sold completely furnished with antiques, country furniture and custom restored details and come as a 'turnkey' opportunity. Property C comes to the market unfurnished but adds greater value to the hamlet with additional bedrooms. There is tremendous scope for a year round guest house business, particularly in light of room accommodation averaging approximately £100 per night in the high season."
For further information, visit preciousvillas.com.