Filming of the new James Bond movie heads to Lake Garda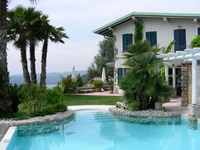 The 22nd James Bond film sees Daniel Craig return as the famous British secret service agent and is being filmed on location in Italy, Austria, UK and South America.
The opening scenes will be shot between the towns of Malcesine, Tempesta and Navene, having being specially chosen by the producers because of the dramatic landscapes and will include a breathtaking 200km per hour car chase, incorporating dangerous overtaking manoeuvres in a series of tunnels cut into the cliffs on a road that hugs the northern part of the lake. Stunts include a spectacular road collision and exploding truck. Then the production team and actors move across the lake to the western shore in the province of Brescia, to the lakeside town of Limone sul Garda where additional footage will be shot.
Sarah Ferrara Managing Director of Garda Homes says, "This is fantastic news for Italy and in particular the Lake Garda region. During the week of filming I expect Lake Garda to be besieged by locals and tourists all hoping to catch a glimpse of Daniel and the special effects which have long been the trademark of all Bond movies. I believe that the fact that Lake Garda has been chosen for the latest Bond movie and particularly the opening shots, is a great advert for the lakes which have seen their fair share of celebrities over the years."
Garda Homes have a range of over several hundred Lake Garda properties to suit all budgets and desires with prices starting from just £65,000 and rising up to around £7 million, with new properties being added daily.
For more information on investing into the Lake Garda property market, whether as a holiday home or an ongoing investment opportunity, then www.gardahomes.co.uk should be your first point of call. They offer the broadest range of properties from dozens of different estate agents within the region and can advise on the best form of finance and potential buy-to-let properties.
For further information, visit gardahomes.co.uk.