16th Century settlement overlooking the walled city of Lucca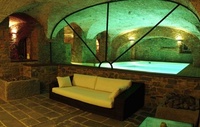 Precious Villas are delighted to bring to the market a 'Borgo' development originally dating form the 16th Century, now full restored, set in an elevated position overlooking the walled city of Lucca in Tuscany.
The settlement was first founded when the Dukes of Lucca decided to build their summer residence on the hills above Lucca where they could enjoy a cooler climate and have panoramic views over the city and beyond. The estate consisted of a noble villa for the family and several homes for servers along with additional buildings for the production and storage of wine and other goods. After a careful restoration programme the main villa still maintains its classic renaissance beauty, with the 'noble floor' of the house boasting high ceilings with frescoes that date centuries back.
The new development will provide a grandeur of an age gone by coupled with luxuries from the 21st Century. Set in glorious park like grounds, with centuries old trees, there will be a communal swimming pool and sun deck area, tennis court and copious amounts of parking. Its best feature will be the 'one of a kind' spa set in the basements and cellars where barrels used to be stored. This underground metropolis will house a swimming pool, Jacuzzi, sauna, fitness and relaxation room and will be open all year round for residents and guests. There are a number of apartments that will be allocated for rental only and just 22 premier apartments available for sale on to the open market. There are varying sizes of apartments available, ranging from 861 sqft to 1722 sqft, some already furnished to the highest standards and others available for decoration to the buyers taste.
Trinidad Passerini, Managing Director of Precious Villas says, "This is a superb opportunity to get on to the Italian property market. To truly appreciate the location of this restoration project one has to look from the many vantage points down on to the walled city, sometimes above cloud cover, giving the 'Borgo' an identity and characteristic all of its own. With extensive estate management and concierge services available 365 days a year, owners can rest assured that their property will be taken care of whilst not inhabited. Owners may also benefit from the rental market to generate extra income if they so wish, with apartments in peak season generating in excess of £1000, per week."
Prices for apartments in Villa and Borgo Matraia start from just £240,000 rising to £1,040 million.
For further information, visit preciousvillas.com.