Villa Dell' Olivara – Guilt-free property investment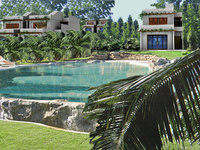 Property isn't the kindest of industries to the environment. According to the Green Building Council the production of building materials accounts for 10% of Britain's carbon dioxide emissions, lighting and heating a mammoth 50% and the construction industry generates a third of all waste in the UK. Buy a second home abroad and add aviation into the equation, another target of tree-hugger wrath, and you have a real conundrum – unless of course you opt for Villa dell' Olivara in Calabria.
Villa dell' Olivara is a gated community of 308 apartments and penthouses arranged on a gently sloping hillside that dips into the Tyrrhenian Sea 700 metres below. Combining the best of traditional Italian architecture and rustic natural stone with modern clean lines and superior qualities, properties at Villa dell' Olivara complement rather than clash with the landscape and great pains have been gone to in order to protect the environment.
The developer, out of respect for Calabria's beauty, has laid out attractive lawns, olive tree-lined walkways and freeform swimming pools which sit comfortably on the landscape. The pools are equipped with the latest salt-water systems to give perfectly clean water without the irritations associated with conventional chemical treatments and one will be heated by a centralised solar energy system. This solar power will also be used in individual homes to feed the energy-efficient appliances, providing great efficiency at a vastly reduced cost for home owners and for the planet. Additionally any olive trees and vines which find themselves in the way of construction will be lovingly replanted within the grounds so as not to upset habitats. In time residents will enjoy the fruits of the estate and stock up on olives and wine produced in their back garden.
Of course it's not all about changing the world, at Villa dell' Olivara you're allowed to enjoy it too. Residents can choose from three outdoor pools, a state-of-the-art gymnasium and Spa, tennis courts and children's play area, bars, eateries plus a beach club and restaurant on the sandy shore below. The adjacent local town offers traditional cuisine and historic sights whilst two golf courses (Feudo Montalto and Montechiarello – both 9-holes) are in easy reach with an 18-hole planned alongside Villa dell' Olivara itself. Somewhat surprisingly for a sun-drenched hotspot, the petite ski resort of Camigliatello Silano is a mere 50-minute drive from the resort and has an impressive 1,302ft of vertical descent as well as attractive cross-country ski-ing. When the snows melt the walkers take over enjoying the many scenic hiking routes.
The apartments and penthouses at Villa dell' Olivara each boast views over the grounds towards the Sea and plenty of private outdoor space via either a garden, terrace or rooftop solarium. Arranged in small groups, the properties have bright spacious interiors, fitted kitchens with appliances, underfloor heating in bathrooms and fully installed air conditioning and heating. Wi-fi connections, video entry and intelligent domotics also come as standard. The international airport of Lamezia Terme served by direct Ryan Air flights from the UK is within 5km or a ten minute drive.
Villa dell' Olivara, an environmentally-conscious purchase in which to enjoy guilt-free holidays plus vast predicted capital appreciation as Calabria catches up with its northern Italian counterparts… truly la dolce vita…
Prices start from 196,000 euros for a two bedroom two bathroom apartment. Reservation deposit 6,000 euros followed by 30% upon contract and 70% upon completion scheduled for June 2009.
For more information, visit gem-estates.com.