King of the Castle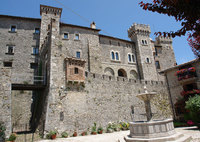 Castello Baronale is an impressive castle dating back to 1350, with a fort dating back to 950 AD, located within the medieval village of Collato Sabino, 50 km east of Rome.
Bursting with history, the castle has been modified by every family, including Italian nobility, that has owned it. Its most important occupant was Cardinal Barberini, nephew of Pope Urban VIII, who purchased the castle in 1641. The famous family symbol, the bee, which is above the main altar in the Vatican, can be seen throughout the castle.
The central part of the Castello Baronale comprises nine bedrooms, sleeping a total of 19 people, seven bathrooms, three drawing rooms, a grand ball room, a study, a library and a theatre. Outbuildings include gatekeepers residential quarters, a tavern with medieval oven and a number of utility and storage rooms. There is also a self contained two bedroom / two bathroom apartment, a heated swimming pool and tennis courts.
The most historical and interesting part of the castle is the old fort. Located in the castle grounds, it has not been touched since the 17th Century when the construction of the clock tower by Cardinal Barberini took place.
The property has a footprint of approximately 3,000 sqm set in just under 7,000 sqm of gardens with just over 10,000 sqm of additional land located adjacent to the castle walls. The landscaped gardens have been designed to bloom throughout the year and include rare Cedar of Lebanon trees, which are also found in the Vatican gardens, that were planted by Cardinal Barberini
Rupert Fawcett, International Residential, Knight Frank, comments: "Castello Baronale is a wonderful and truly impressive property, full of history, majesty and charm, with spectacular and commanding views over the surrounding countryside. A baronial residence or perhaps a boutique spa, the castle offers the promise of grandeur and fairy-tale in a picturesque setting."
The castle was restored to its former glory in the 19th Century and more recently in 1988 when it underwent major restorations and refurbishment. Further enhancements were made by its present owners in 2006.
The picturesque village of Collato Sabino is located in the region of Sabina. Sabina is well known for its breathtaking views and the production of some of the finest olive oil in Italy. Castello Baronale is situated 1000 metres above seal level and dominates the Piana Del Cavaliere, the Valley of the Knights.
Castello Baronale has an asking price of €11,500,000.
For more information, visit Knightfrank.com.