Italy storms up the property rankings in 2008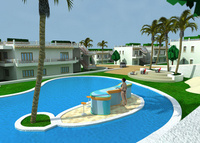 Italy's property market is on the move and it's all in one direction, and that's up. A leading property search portal revealed this year that Italy is now the most searched for country by Brits looking to invest in property taking 8.5% of all searches on the website. The country knocked France off their top spot and into third with Spain claiming second place.
In January of this year another international search portal announced that Italy had risen to third in its rankings with 7% of all international searches on their website whilst A Place in the Sun magazine's Top 20 Buying Destinations saw Italy move up three places from last year to this year's fifth spot.
Chris Sawyer, GEM Estates' Italy expert had this to say, "It's largely the southernmost region of Calabria that's fuelling this heightened interest. As soon as the British buying public realized that chic Italy had a hidden corner which was both aesthetically stunning and highly affordable, the rush was on. Reassuringly European, low risk and mortgage-friendly, Calabria is now jostling for attention alongside the established Côtes and Costas and ticks boxes for both lifestyle buyers after a pleasant climate and attractive coastline and investors with an eye for a profit. Capital appreciation is tipped to be 15 to 20% per annum for the foreseeable future and with prices creeping up at a heady pace the time to get involved is now."
GEM Estates is promoting Jewel of the Sea II, successor to the hugely popular Jewel of the Sea said to be the fastest selling European holiday property development in 2007. Set close to the ancient town of Brancaleone, the gated resort of low-rise beachfront apartments and villas is finished to the highest standards and owners enjoy the benefit of on-site concierge and property management services.
Jewel of the Sea II has a full range of on-site facilities, the most significant a Jacobson-designed 18-hole golf course complete with driving range which 2007 Open Champion Padraig Harrington has lent his signature to, this asset will undoubtedly attract interest from the golfing fraternity across Europe. Additionally residents have full use of a restaurant, cafés, swimming pools and aqua park, Spa and fitness centre, tennis courts and children's play area. The local vicinity brings spectacular coastlines, a true Mecca for diving enthusiasts and water sport lovers, as well as rugged countryside for hiking, horse-riding and even ski-ing.
Prices start from 65,890 euros for a one bedroom apartment and bank guarantees are in place to protect 100% of payments made. Payment terms are 50% on preliminary contract and then 50% on completion scheduled for September 2010.
For more information, visit gem-estates.com.