Restored historical homes in Italy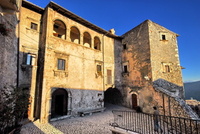 Realitalia, is proud to announce the launch of a project of renovated ancient homes in the historic centre of Santo Stefano di Sesssanio in the heart of Abruzzo, a region rich in cultural traditions.
The first homes are scheduled for completion in June.
In addition, Realitalia, together with Sextantio, has created a unique programme designed to take the pressure out of purchasing and maintaining homes in the Italian countryside combining the exceptional service provided for by the "Albergo Diffuso" with these private homes.
"The true value of this project is the profound desire to make something special in the design and restoration of this community and it's homes to a standard that is exceptional to the local market", says Luca Catalano, Director of Realitalia.
For this project the company teamed up with Sextantio, the restoration company that created the extraordinary "Albergo Diffuso". Diffuso is Italian and means "spread"; in this instance Albergo Diffuso is the hotel which is spread around the historical centre thereby one finds the reception in one ancient building, the restaurant in another, the wine bar elsewhere and the rooms located into different historical buildings in the village. This enables the area to keep its charming antiquity.
The private homes at Santo Stefano di Sessanio will benefit from the professional management of the "Albergo Diffuso", including online rental service (for those who want to rent their homes), and other services specifically created to give homeowners an opportunity to have time to relax in their Italian home.
Continued Luca, "Together with Sextantio, Realitalia has implemented a proven property management system to allow homeowners to effortlessly manage their properties remotely. Owners can promote, schedule and book vacationers through an online rental service which also includes an on site concierge service plus assistance to the homeowner with particulars, to make their ownership more enjoyable. The end result is a personalised holiday home that offers the ultimate in relaxation and satisfaction".
Santo Stefano di Sessanio was once a thriving wool trading hub in the 13th century. It is now a charming country town nestling in the rolling hills of the Gran Sasso-Monti della Laga National Park. Relatively untouched by developers, the unique setting, amongst beautiful medieval structures, remains. The delightful rustic village offers several speciality shops and stores that maintain their rich Abruzzo cultural traditions and the quiet squares and sun dappled streets bring to visitors a totally charming and relaxed ambience.
Concluded Luca, "We have worked closely before with Sextantio. The company's ability to capture the building's original character and to restore early buildings, taking into account the historical accurate detail, is exceptional.
Beside the Homes Overseas Award won last year on the project, their professional ability was seen at award winning "Albergo Diffuso" – the most important probably being The European Union Prize for Cultural Heritage, Europa Nostra Awards 2006, Cultural Landscapes europanostra.org/lang_en/index.html - and their desire for accuracy is evident in their approach to everything from a property's uneven floors and low ceilings to acquiring locally designed furnishings to complement their finished works.
As an Italian, I am proud of my country and its many historical buildings. It is therefore very important to me that the homes that we "rescue" from becoming derelict are restored to the highest order. We are delighted with the meticulous work of reconstruction to regain the lost character of these homes by Sextantio as they flawlessly merge medieval details with modern day conveniences."
Santo Stefano di Sessanio, Abruzzo, Italy
Location
Renovation of unique holiday homes in beautiful village within easy reach of four International airports.
Roma Ciampino- 1 hr 30
Roma Fiumicino – 1 hr 50
Ancona – 2 hrs
Pescara -1 hr 45
National Park in which properties sit is some 150,000 hectares and is one of the largest parks in Italy and includes three mountain groups.
Facilities
Skiing
Golf
Historic sites
Festivals
Specifications
Some homes have vaulted ceilings, fireplaces, beams, heavy wooden doors, stone arches, grotto bathrooms etc.
Prices for one and two bedroom apartments from 350,000 euros/£278,804
Plus transaction cost and applicable taxes.
First homes available for occupation anticipated at the beginning of June 2008.
All homes to benefit from exceptionally sophisticated, full service management programme allowing owners to enjoy Italy as it should be.
For more information, visit realitalia.co.uk.