A unique city location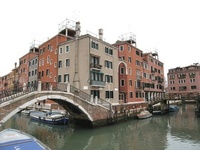 It is difficult to find any words to describe the beauty and fascination of Venice. Before buying a property there you should be aware that you will need to do lots of walking and spend time on the 'vaporetto, (water bus). If the idea of leaving the car at home appeals then this is the perfect location! If you do wish to sight-see then take a train which is cheap and efficient to the beautiful university city of Padova or go and visit the fascinating walled town of Montagnana. Venice is a beautiful destination surrounded by some of the most beautiful unexplored countryside in Italy.
Properties do not come cheaply and you can expect to pay upwards of €300.000 for a two bedroom property to be restored, but oh what a fabulous location! Venice is a unique cultural city and is absolutely breathtaking. Steeped in history and with an exciting, totally unrivalled, atmosphere, it lures visitors and home owners from around the world. There are art galleries, the Guggenheim museum, Dogi's Palace and of course St Marks Square.
Travelling to Venice from the UK is easy with a choice of airlines. Including Ryanair, Easy Jet and British Airways to either Trevio or Venice Marco Polo.
Linda Travella of Casa Travella, experts in the sale of property in Italy since 1987, has just travelled to Trevisio. 'I was amazed at how easy it was. I arrived on time and bought a ticket for the bus to Venice, which cost just €6.00. As I stepped outside the airport and a guy said, Venezia? After 10 minutes we were on our way in an air conditioned bus and arrived 50 minutes later."
Types of property vary and in general properties are in the 'old palazzi' where they can be either ready to move into or for restoration. Casa Travella does also have some new build properties on the Guidecca where the famous hotel Cipriana is located.
Linda adds 'In Venice a property to restore can be a good option but be aware that it will take longer than normal to obtain permissions as buildings are mostly listed. As a company we have some very good architects and surveyors to project manage restoration and refurbishment but I always advise clients to make personal regular trips to see how work is progressing."
Venice is split into to various areas; to mention just a few there is –
San Marco, which is a favourite tourist area.
Castello, a delightful area which is quiet and where many Venetians choose to live and where a 10 minute ride on the "vaporetta" (water bus), takes you to Venice Lido where you can relax on a sandy beach.
Dorsdoro, is quite centrally located and leads down to Guidecca Canal and a five minute water bus will take you to Guidecca island.
Visit the opera at La Fenice, or go to the market at Rialto, famed for its fresh produce.
Venice is a town and a resort so there is something for everyone. The most expensive homes of course are along the Grande Canal and surrounding streets. Venice is well serviced by public water taxis and a train station provides access to the city within a few minutes walk.
Concluded Linda, "Trying to find a three bedroom, 2 bathroom apartment in the centre of Venice is almost impossible so we are delighted to offer a property in Dorsduro, Santa Croce which is only 10 minutes walk from Piazzale Roma for bus, trains etc. The property is on the 1st floor and has a view of the canal. There is some internal work that needs completing, (2 bathrooms need installing and a new kitchen). Accommodation is as follows: 3 bedrooms, 2 bathrooms, kitchen, living room and 2 storage areas on the ground floor. The property has the rare advantage of a shared garden, courtyard and roof terrace. The property is on the market for 530,000 euros."
Another property currently being marketed by Casa Travella in Venice is a luxury top floor, two level, apartment with a spectacular roof terraced located in the St Marks area of Venice close to the Grande Canal. This fabulous apartment has been recently totally restored with the best quality materials and comprises living room (with exposed beams and a fireplace), kitchenette, bathroom, bedroom and master bedroom with direct access to wonderful roof terrace with breathtaking views across in this magical city. 670,000 euros.
For more information, visit casatravella.com.