Calabria Property: Next Mediterranean success story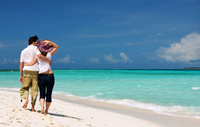 The region of Calabria in southern Italy is tipped to become one of the most popular destinations in Europe, and the next Mediterranean property investment success story. This is because property prices are comparatively cheaper than other similar areas in Europe, similar in the glorious beaches, scenery and climate that is. Another plus for Calabria is the fact that the area will not be overdeveloped due to strict government planning controls – this will ensure that demand remains high for rental accommodation and resale properties.
David Stanley Redfern Ltd announced this week their entry into the Calabrian market, stating that three new Calabrian developments would be added to their website in the coming days.
Liam Bailey, head of international research for the overseas property investment specialists gave journalists a verbal sneak peek at the new developments:
"All three of our new developments are only a few minutes' walk from one of Calabria's gorgeous beaches, and most units will have spectacular views out over the Ionian sea. Of the three developments we are taking on, the lowest priced units start at £71,000 for a 2 bedroom apartment in an off-plan development just 5 minutes walk from the beach, and with the aforementioned views of the sparkling Ionian Sea.
"That is a prime example of why Calabria is going to be so huge in the coming months and years; prices like that for a 2 bedroom apartment on the southern Italian coast offer superb value for money. A property like that for such a low price will give its owners at least an 8% yield, even after taking out their own usage of the property."
Liam went on to give very brief details of the other two new developments: stating that both are apartment complexes, both are close to the beach, and both have unit prices of below £80,000 for 2 bedroom apartments. His closing statement was:
"When an area like Calabria begins to attract increasing international attention, with strict building controls ensuring constantly high levels of demand, it is all but a foregone conclusion that property prices will see sustained and rapid growth of at least 10-15 percent per year."
For more information, visit www.davidstanleyredfern.com/investment-property/italy/