Italian Property helps breathe new life into renaissance ruins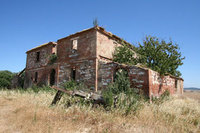 Many Brits will return from a holiday in Italy this summer with grand designs of investing in a rustic ruin to restore to its former glory. However, turning a tumbledown building into an idyllic holiday home can be fraught with hazards: people often realise too late that the required renovation is beyond their financial and practical means.
Italian Property, one of the country's largest, independently operated real estate agencies, provides a bespoke restoration service to help buyers avoid the common pitfalls and ensure that work is completed to specification - and budget.
The company currently has a number of historic houses, ripe for restoration, available in a relatively undiscovered area of unspoilt Umbria. Often touted as "the new Tuscany", Umbria is a charming 'cousin', offering undulating olive groves, Renaissance towns and traditional houses. With its environment under enforced 'no new build' protection laws and annual appreciation beating the credit crunch, Umbria has the property renovation potential to match its dramatic landscape.
Recent years have seen an exodus of local Italians to towns and cities, where they can realise their preference for more modern housing. Italian Property, with its intimate knowledge of the area, has secured several stone farmhouses with spectacular scenery close to the medieval town of Città della Pieve and Lake Trasimeno, for restoration by British investors.
Anthony Dunkley, founder of Italian Property says: "Beautiful old buildings in need of restoration are highly demanded in the UK, and buyers can be seduced by any stone ruin within reach of a Ryanair flight. But without an understanding of the architecture, the right restoration skills and on-the-ground knowledge of building regulations, your rustic retreat could turn into the holiday home from hell.
"I founded Italian Property over 20 years ago, long before property development programmes became a TV staple, and we work with people that have been in the area for generations and understand the local methods and materials."
Italian Property offers clients a complete 'key-in-hand' service - from their initial enquiry through to the first day of occupancy. A recognised expert in the restoration filed, it steers buyers through the maze of local planning permissions, helps source suppliers of authentic materials, sets tight spending controls, and provides a team of builders and craftsmen well versed in traditional techniques.
And language is no barrier to success - all of the company's consultants are bilingual and have personal experience of living and working in Italy.
Restoration properties available in Umbria range from farmhouses packed with original features such as handmade terracotta floors, vaulted ceilings, exposed beams and arched doorways, to those mostly in ruins, allowing the buyer to work with the footprint of the property and design the rebuild to their own requirements using salvaged materials.
All the properties sit on substantial tracts of land and command spectacular panoramic views of the surrounding countryside. Prices start at € 280,000.
For more information, visit italianproperty.eu.com/properties/restoration