Unique renovation project in Italy has 6 days of filming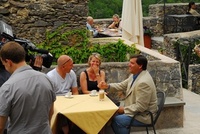 Realitalia is proud to announce that "Home and Garden TV International House Hunters" has chosen their breathtakingly beautifully restored 13th century hilltop village for filming and ultimate distribution to over 130 countries worldwide.
"We were delighted that the production company were prepared to travel from their base in the USA to spend 6 days filming", says Luca Catalano, Director of Realitalia. "This is an exceptional project in which we have taken great pride. Colletta di Castelbianco, set midway between Genoa and Nice, offers unique properties sculptured from original medieval buildings to create magical homes each with their own character".
Colletta is a hilltop village with a quaint collection of tiny streets clustered around charming sun dappled squares with patios and terraces dripping with fragrant flowers. For residents there are charming communal gardens, a swimming pool set into the verdant hillside, a sauna and open air summer theatre. The location has also been honoured by being chosen by the Bernard Nobel Sculpture Foundation for a sculpture park.
Realitalia has been able to incorporate one of Europe's first high speed villages with strong technological angles including fibre broadband to all units, satellite TV and telephone switchboard, conference room with latest teleconferencing and fax/e mail facilities plus outstanding audio/visual equipment including LCD screens/audio system and cinema room.
This could have been one of the reasons astute businessman, Peter Moule, chose to buy a home here. (Peter was the most highly successful entrepreneur ever to appear on one of the UK's top programmes, Dragons Den. His invention was backed by "dragons", Duncan Bannatyne and James Caan).
Peter is so happy with his purchase of a stunning apartment at Colletta and the fact that "it was like buying into a community – and the development is run to perfection", that he agreed to be part of the 6 day filming.
Concluded Luca, "This programme consolidates our position on a world stage; we are producing the highest quality properties that are unique in nature. At a time when many countries are offering holiday homes in high rise blocks or terraced villas, we have sought to make our buyers' visits to Italy truly amazing.
As an Italian, I am very proud of my roots and therefore keen to ensure that we maintain the homes that are already built and part of the landscape and history of the region. It is far more eco friendly to renovate than destroy and rebuild, and of course the results are unique."
Colletta is an award winning development and currently properties available include studios, one, two and three bedroom homes from 137,000 euros/£108,949 approx for a South West facing garden property with parking and furniture included.
One and Two bedroom properties with outside spaces, in some cases furniture included and parking start from under 300,000 euros/£ 240,000 approx.
For those wishing to rent then this can be arranged via the Colletta Internet Letting System a sophisticated method which can be accessed from anywhere.
There are a total of 70 apartments and houses at Colletta.
There is a year round caretaker
There is skiing in the nearby mountains and the stunning Italian lakes are within 2/3 hours drive.
For more information, visit realitalia.co.uk