Italy's Tropea matches St Tropez on style but not on prices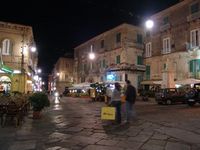 When the Sunday Times put Tropea at number one spot in its 'Top 20 Beaches' report in January 2007, the automatic assumption was 'best' equals 'expensive'. Imagining it to be the almost eponymous St Tropez of Calabria, estate agents practically herded potential buyers away from this trendy hotspot and into nearby up-and-coming areas not yet appearing on the radar. But whilst they were right about Tropea's style icon status, they were less-so about price. At Tropea Beach Resort chic can also be cheap.
On the lower laces of Italy's boot, some 60km from Lamezia Terme Airport (served from London by Ryanair), Tropea has mastered the tightrope between achingly fashionable and incredibly unspoilt. If you like your beaches with a bit of drama, this one's for you. Glassen turquoise waters washing clean sands shielded by high cliffs on which perch Renaissance churches, grandiose sandstone palazzos and a maze of streets with pavement cafés and designer boutiques. Tropea's signature feature is undoubtedly the monastic sanctuary of Santa Maria dell' Isola which presides over the town from a majestic rock linked to the mainland by a sliver of fine sandy beach. The drama even extends to the cuisine with Tropea gelaterias offering red onion, squid ink and spicy salami ice cream, although this, unlike the beaches, could take a little more getting used to.
Five minutes in the hills behind this idyll is Tropea Beach Resort, a development of 44 three bedroom three bathroom villas and 80 one and two bedroom apartments, each with breathtaking views. Finished to the highest specifications to include air-conditioning and kitchens fitted with white goods, the apartments share communal swimming pools, tennis courts and bars whilst the villas count on their own private pools, barbecues and rooftop solariums. With development land in the Tropea area a rarity and demands on rental stock high, the investment potential for Tropea Beach Resort is considerable.
Prices start from 122,355 euros for a one bedroom apartment, 143,955 euros for a two bedroom apartment and three bedroom villas from 444,150 euros. Payment terms are 3,000 euro deposit plus 35% on contract, 15% on start of build and 50% upon completion scheduled for December 2010.
For more information visit gem-estates.com