Italian Property offers a taste of the Tuscan highlife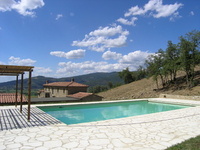 One of Italy's largest independently operated real estate and restoration agencies has procured a number of prestigious properties in and around the classic Tuscan hill town of Cortona. Italian Property has a range of high-end houses ready to show prospective buyers, from fabulously renovated farmhouses amidst cypress and olive groves to rare finds such as a romantic Tuscan tower.
Cortona, an Etruscan walled city known as the 'grandmother of Rome', is steeped in history. Its museums play home to artistic treasures by Fra Angelico and Luca Signorelli; ecclesiastical masterpieces, including a Romanesque church and the 11th century Duoma, grace the city; and its hilltop is crowned by a Medici fortress. But even a ramble around Cortona's steep cobbled streets is a treat for the culturati - its medieval passages and classic piazzas are rich in examples of Renaissance architecture.
And it's not just art and architecture lovers who will fall for Cortona's charms. Every August, the city hosts the Tuscan Sun Festival, offering visitors the chance to catch some of the biggest names in classical music in the intimate Teatro Signorelli and other stunning settings. In addition to its music programme, cookery, wine tasting and exhibitions complete the festival line-up.
Property in Cortona is at a premium but Italian Property is able to offer prime real estate, thanks to its 20 years of market experience and intimate knowledge of the area - the agency is based in the city. Its Cortona portfolio includes an impeccably resorted 18th century farmhouse, complete with pizza oven, terrace and heated pool, a hillside villa built in the traditional Tuscan style, a four floor tower with panoramic views of Cortona and the Pergo valley, and a traditional house, equipped with all modern comforts, set in a mature garden of cypress trees.
Jason Jones, managing director, says: "Cortona is the star of the acclaimed book and Hollywood blockbuster 'Under the Tuscan Sun', since when the area has become even more popular. Coupled with its close proximity to Florence and Rome - the cultural heart of the country - you can see why property is in such high demand with both native Italians and overseas investors.
Cortona's central Italian location, in Tuscany's eastern hills, sees it well served with transport links: the airport in Perugia is just 30 minutes away by car, with Pisa, Florence and Rome no more than 2 hours away, it is close to the Siena/Perugia motorway and the A1 autostrada, and on the main train line between Naples and Milan.
For more information visit italianproperty.eu.com