Italian Riviera loved by rich and famous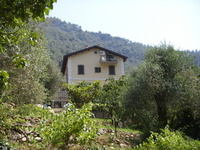 The Italian Riviera – loved by the rich and famous - think Catherine zeta Jones, Michael Douglas, Wayne Rooney, Nicholas Cage. You too could be part of this glamorous world with a beautiful apartment for just over £100,000.
The Italian Riviera or Ligurian Riviera as it is known, links North Western Italy with the French Riviera. It is a land of spectacular views, azure blue Mediterranean waters, breathtaking hillsides dropping to magical coves and sweeping beaches. This is a place for the rich and famous but also, if you are canny, you could own a property here.
This famous coastline stretching through chic San Remo towards Genoa down towards Pisa is rich in scenery and rich in its visitors. Throughout the summer one reads of visits by Catherine Zeta Jones and her husband, Michael Douglas, Rod Stewart got hitched in Santa Margherita Ligure and of course there was the wedding of Wayne Rooney and his wife this year, along this splendid coastline.
So, do you want to be a part of this jet setting life style? Well, you can. Not every property is over £1 million, there are pockets of villages and countryside where you can get a value for money home. One such area is on the outskirts of the ancient village of Airole, 8 miles inland and in fact only about 20 miles from the border with the French Riviera; Menton and Monaco being the closest resorts.
Riviera Homes is currently marketing the Roja Valley apartments; very attractive and unique apartments lovingly restored from an ancient Customs House.
Features include:-
Gas-fired central heating, telephone, electricity, water and drainage
Remote-controlled gates and video security system
Dual-aspect views of the picturesque river valley
Extensive landscaped gardens
Use of 9m x 4m swimming pool
2 sandy beach areas for relaxation
Car parking and garages for owners and guests
The homes are in a tranquil valley with views for those on the upper floors. The nearby village has a choice of restaurants, bars and local shops amidst the shady lanes and squares and of course the "bling" and the sophistication that is the Italian and French Riviera is just a mere short drive away.
There are four properties remaining and prices currently start from around £103,480.
With skiing in the winter and a plethora of outdoor pursuits in the summer this really is the place to buy for a touch of class.
The company also has a number of beautiful and unique homes ready for occupation on the Tuscany Riviera and in Lake Maggiore.
Prices at Roja Valley Apartments on the Italian Riviera start from £103,480 Freehold.
For more information visit rivierahomes.net