Unknown Tuscan countryside just 35 minutes from Pisa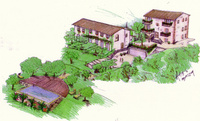 The Chianti Pisano region in Tuscany offers miles of gentle, rolling hills of unspoilt agricultural land. It provides a tranquil haven, with magical, peaceful and unspoilt villages, superb wine and food, and a richness of cultural experiences.
Italian Luca Catalano, Director of Realitalia, the Lifestyle Solution Company in Italy and major award winner says, "As a company we have invested substantial resources in this area; for example our projects of Ville degli Olivi and Borgo in Chianni. Beside the beauty of these valleys, two of the main reasons we chose to devote our time and energies into this region are the rapid growth of the international airport of Pisa and the local communities attitude, that in the last three or four years - for example in Chianni and in Lajatico – has created very relevant initiatives to the local economy."
It was important to Realitalia as their business model combines private second homes with a professional on site management and letting system, which relies on good connections for owners and guests as well as on a close working relationship with the local communities.
"What is particularly interesting to note is that – being unknown to many - prices tend to be lower than in other parts of Tuscany and the beauty of the valleys of Lajatico and Chianni compare exceedingly well with the more well known parts of the region", continues Luca. "Letting websites frequently advertise holiday homes around Florence and Siena but there is virtually nothing on offer between Pisa and Volterra. It is almost like a forgotten area which is a shame as it has so much to offer; very good things happen in these small villages and their communities".
The Badia di Morrona charity event organised by Boutique C'e' chi c'ha to promote local production in the fashion field represents the last of several important initiatives promoted by the local community this year, where Realitalia gave its contribution.
In the last three/four years a number of new businesses by residents have changed the village of Chianni. "In my opinion", continues Luca, "this is very encouraging and proves a lot about the attitude and desire by locals to improve their land in a way that is sustainable."
Luca continues on this growing trend in the village of Chianni: "Restaurant il Gallo was opened in 2004 and it is now one of the most sophisticated restaurants in the area; the Hotel de Charme Le Vecchie Cantine was opened in the summer of 2005 and it is now one of the good addresses in the area, where you can even enjoy a small well-ness area as well as a very genuine Tuscan atmosphere; the first Boutique C'e' chi c'ha was opened in 2006 and the second one, dealing mainly with the Casentino production (a local traditional textile production), opened earlier this year.
"Nearby in Lajatico the opening of Teatro del Silenzio has brought this village to the worlds map of international music events, thanks to the love of the Bocelli Family for their land."
Realitalia business model to create services to their homes locally, produces natural support to all this and, in addition, an active local economy can generate a solid environment of growth to their projects.
Luca concludes: "It is a very positive combination that makes me very optimistic about the future of these undiscovered areas".
Realitalia has several projects the region including:
Borgo in Chianni, Chianni – 11 x 1,2,3 bedroom apartments and houses, prices from under Euro 300,000
Ville degli Olivi (featured above), Lajatico – 8 x 1, 2, 3 bedroom apartments and houses, prices from under Euro 300,000
For more information, visit realitalia.co.uk