The perfect combination for an Italian with an English wife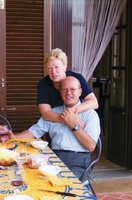 Ranieri is an Italian with a true love of his country. Born in Tuscany he has led an interesting and successful life but it is to Italy that he has returned in his retirement despite having an English wife and two adult offsprings who now reside permanently in the UK.
"Italy has so much to offer, particularly the countryside", says Ranieri. "When you live close to the villagers then you experience life's cycles through their crops, the festivals and the many events. This is a happy existence where you can feel the sun on your face and know the month of the year by just looking out of your window to the very beautiful land that surrounds this part of Italy".
Ranieri is referring to the softly undulating hillsides around Pisa. Both his mother and his grandmother were born in the Chianti Pisano, near the village of Chianni in Tuscany.
Ranieri left school at aged just 14 years and when he was 15 years old took private lessons to learn English. He also, over the years learned French and German. However, it was in England that he made his home where he lived from 1964 to 2003 and where he achieved the position of Head Concierge at The Berkeley, the 5*, award winning, elegant hotel in the heart of Knightsbridge.
Continued Ranieri, "I loved my time in England and I will always have strong ties with the country. After all my wife is English and our two children, who are now both adults, who were born in the UK, now live permanently in London which is why we spend Christmas through to around February in England each year then return to Italy."
Ranieri has now returned to his roots, choosing to live in the Chianni region and with good reason. It has so much to offer and is only about 30 minutes drive from Pisa International Airport, making trips to the UK, quick, easy and with budget airlines, very cheap.
The village of Chianni is where gentle changes are being made to make it even more desirable as a place to live. In the last thee/four years a number of new businesses by residents have improved their land and in a way that is sustainable.
In the village of Chianni a new restaurant, Restaurant il Gallo, opened in 2004 and is one of the most desirable in the area. The Hotel de Charme Le Vecchie Cantine opened in the summer of 2005 and even offers a small well-ness area. The first Boutique C'e' Chi C'ha was opened in 2006 and the second one, dealing with Casentino production (a local traditional textile production,) opened earlier in 2008.
Nearby – in Lajatico - the opening of Teatro del Silenzio has brought this village to the worlds map of international music events. Again in last July Andrea Bocelli headed a splendid night of music echoing in the still night air. The Bocelli family live nearby and in fact Andrea's brother, Alberto, is an architect and has worked closely with Realitalia, on a number of projects as for example Ville degli Olivi in Lajatico itself.
Realitalia creates Lifestyle Solution Homes where a management service and the Realitalia Intelligent Design blend to deliver exceptional homes that owners and guests can really enjoy.
The company comprises a dedicated team committed to creating homes for pleasure in quality projects that respect local communities and the environment. The company is exceptionally "green" being a member of the UK Green Building Council and have signed the 2016 Commitment to build zero carbon rated homes by that date.
Ranieri, has looked with great interest at the company's business model and has been impressed with their work behind these homes and the management service. "The on site management and letting system works closely with owners and guests as well as the local communities. The Realitalia's lifestyle solution concept does create a unique opportunity to enjoy owning a second home in the Tuscan countryside. It makes things more efficient and more enjoyable especially if the owners do not live locally. In addition they can benefit from the professional letting management of their home, if they wish to do so. It is a rare opportunity in Italy"
Luca Catalano, Director of Realitalia says, "We are very existed about the Chianti Pisano here in Tuscany. With both Ville degli Olivi and Borgo in Chianni we feel we can offer a very enjoyable experience of Tuscany, combined with the convenient access offered in the area by the Pisa airport".
Realitalia has several projects in the region including:-
Borgo in Chianni, Chianni where eleven, one, two and three bedroom apartments and houses are being created. The rustic building will provide five panoramic apartments plus there will be the construction of three additional town houses. The homes are located just one minute from the main square in the village. New owners can enjoy the 2,000 sq metres of Olivi orchard at the rear and spectacular view of the magnificent countryside with beautiful olive trees and grapevines. The properties will also benefit from the Realitalia Lifestyle Solution concept for easy management which includes on line rental system, remote management and homes automation.
Prices- one bedroom apartments start from under 300,000 Euro.
Ville degli Olivi in Lajatico there are eight, one two and three bedroom apartments and houses again starting with prices under 300,000 Euro.
Concluded Ranieri, "This is without doubt a heaven on earth place in which to live. One day our children may wish to live in Italy and I feel that this region would be hard to beat."
For further information, visit realitalia.co.uk