Beckham heads to A C Milan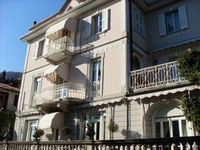 David Beckham is heading to Italy having signed for the footballing giant, seven times European champions, A.C. Milan. He is to reside in one of the most fashionable and chic regions in the world and already paparazzi are speculating as to where he will choose to buy a home.
One of the rumours has him house hunting around Lake Como and certainly you cannot get a more stunningly beautiful region in which to buy a property.
If Victoria Beckham enjoyed shopping in Madrid then she will, for sure, enjoy taking the children for an ice cream in La Galleria or strolling down the Via Monte Napoleone the designer shopping street in Milan. Whilst Victoria may wish to stay in Los Angeles to ensure continuity with their children's education, when they visit, hotel accommodation is not really and option, so it seems that Italy may soon get some new homeowners.
Also, if Victoria is hesitant, she may be influenced by Silvio Berlusconi, the Italian prime minister, who has openly encouraged them to buy a home in Italy by suggesting that Victoria consider fronting a documentary on her move to Italy.
"Whatever they do makes news, " says Linda Travella of Casa Travella, experts in marketing quality Italian homes to the British buying public for 21 years. " In 2003 the Beckhams were seen looking for a villa on Lake Como and focused on the area around Moltrasio, Laglio where George Clooney has his villa, although in recent weeks I read in 'La Provincia', the daily paper of the Como region, that they have been looking for a penthouse in Milan."
If the Beckhams want to be with the VIPs of the world then a property on the lakes is the perfect answer. Silvio Berlusconi, himself, has recently bought a stunning lakeside villa on Lake Maggiore, and spent a considerable amount of time looking on Lake Como before deciding.
Casa Travella can offer homes for the wealthy and also anyone who appreciates quality homes in awe-inspiring locations. This part of Italy is stylish, sophisticated and very chic. It offers skiing, water sports, spectacular views and designer stores, glamorous hotels, and top quality restaurants, in Milan or the elegant city of Como. Juxtapose this with its history and culture and you have a utopia.
If you would like a luxury villa similar to something that the Beckhams may be interested in then Casa Travella can offer you villas from €1.000.000 to €15.000.000. A villa currently available would be a 600 square metre period villa with ancient murals and incredible oil paintings, together with a 100 square metre house suitable for guests or staff, all set in an acre of garden in a very private location. Price is available on request, and is in excess of €4.000.000.
"Despite the current world recession, those with money are still buying", says Linda Travella. "In fact, such has been the level of interest I have recently launched a new website aimed specifically at the top end of the marketing spectrum, where we can offer superior homes of the highest calibre. Many owners tend to instruct us on the understanding that sales are made discreetly. Having specialised in Italy for 21 years and speaking the language fluently, I am able to offer the type of service clients in this price bracket, deem fundamental".
"However you do not have to have millions to purchase on Lake Como or Lake Maggiore. We have a newly restored town house with 3 bedrooms and three bathrooms for €640.000 and you can be within five minutes walk of George Clooney's residence, Villa Oleandra".
If you go further along the Western shore of Como you could purchase a new two bedroom apartment with a lake view for €250.000 at Gravedona.
If you prefer Lake Maggiore then you can buy a two bedroom property with terrace and lake view for €230.000.
If you want to be "where it's at", then start looking now. There really has never been a better time to buy with prices being extremely realistic.
For further information, visit casatravellapremier.com or casatravella.com