Energy sustainable holiday home development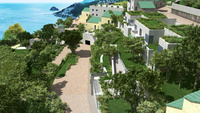 Buildings are deemed responsible for more than half the total energy consumption in developed countries and for the production of over half the gases believed to be the cause of climate change. Thus it is essential to propose new ways of building and living in homes which can produce energy from natural resources.
Luca Catalano of Realitalia, the Lifestyle Solution Italian Homes Company working closely with partners Colletta di Castelbianco Srl on this project, says," We are fully committed to protecting the environment and we have been amongst the first members to join the UK Green Building Council. We have also signed the 2016 Commitment to build zero carbon emission homes by 2016, for as it is a priority."
Realitalia are currently marketing some exceptional Italian holiday homes in a prime location perched on the Bergeggi Hills overlooking the sea and within a 4 hectare Centenary Park. Just 40 minutes from Genoa airport and only 1hr 45 minutes by car from both Nice and Milan, this supreme resort of holiday homes immerged into a 10 acres sea front park, with club house and cafe, wellness area and business centre, together with its own private beach, has drown a great deal of interest.
"These holiday homes have been designed to use 19 times less thermal energy than ordinary homes in the same area", continues Luca. "They offer on going savings on the day to day running and maintenance is reduced dramatically since these homes require much less to be heated and cooled."
The five key areas in which Dominio San Sebastiano has achieved noticeable results are in –
Sustainable sites – This beautiful holiday home resort is integrating all the housing units into the environmental context of the construction area which is characterized by dense Mediterranean vegetation. Where possible the properties have been located where it is not necessary to fell existing trees and green roofs have been used to compensate for any lost green areas and to improve the building insulation.
Water efficiency –The company has chosen local flora suited to the area's climate, rainwater will be harvested for irrigation of the gardens and the company favors water saving taps and WC cisterns.
Energy Efficiency – Buildings have been designed to have low energy loss which includes devices to reduce internal heat in the units in the summer such as adjustable shading system which allows each user to regulate the amount of sunlight entering the building. With excellent thermal insulation and other technical advances in an endeavour to achieve Class A+ certification most of these buildings have been designed to consume about 1 cubic metre of methane gas per square metres per year against 19 cubic metres for a house using traditional techniques. As a result the ratio is that 20 apartments at this complex are expected to consume an amount of thermal energy to be less than what needed for two apartments built using average traditional techniques.
Choice of materials – Materials have been sourced from demolition of existing buildings for back filling and recycled and environmentally friendly materials, with a certified life cycle, used where possible.
Indoor environmental quality- Large windows allow natural light thus reducing the use of artificial lighting systems. Equipment is planned to reduce electro magnetic fields in bedrooms.
Dominio San Sebastiano is extraordinary not just because of its eco credentials but because of its delightful layout, impeccable attention to detail and supreme location. Situated in Liguria it offers easy access to Northern Europe. The private park and beach together with the lush hillsides and sparkling crystal clear sea makes you feel a million miles from it all.
Each apartment can be individually customised and early purchase can result in the combination of several apartments to create larger, personalized homes. All apartments are designed to follow the criteria of Realitalia's Lifestyle Solution Homes, offering beautiful views, outside living areas and maximum access for light.
The holiday homes resort has a central square designed to be the hub of this relaxed social life lived around the café and club house, hydrotherapy facilities, private solarium and indoor access infinity swimming pool overlooking the sea.
In accordance with the Realitalia Vision of the Lifestyle Solution Homes, a letting management service and full maintenance support will be available on site.
With golf courses easily accessible plus winter skiing in the Limone Piemonte slopes the location has much to offer everyone. The Cote d'Azure is also within easy reach of the French Riviera. This part of Italy is renowned for its traditional food and wines and there are many colourful local festivals around Dominio San Sebastian.
Concluded Luca, "Our commitment is not linked to whether it brings an immediate return from a sales point of view but more a desire to do our part in protecting the environment and to do it well. However, I am confident that people will evaluate it as an important aspect about our business model, since this is what I would do if I were the client".
One and two bedroom apartments which can be purchased off plan from circa 300,000 Euro/£ 260,000 approx.
For more information, visit realitalia.co.uk