Fall in love with La Dolce Vita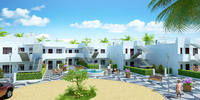 With the cost of a UK wedding spiralling to an average of £20,000 and with increasing numbers tightening their belts at this difficult time, it is not surprising that growing numbers are looking towards foreign shores when planning their nuptials. Recently released figures by consumer, media and market research company Mintel have shown that 1 in 6 British couples (16%) are now getting married outside of the UK, an increase of 43% since 2003. The comparatively low cost of the average overseas wedding - £6,000 - is just one draw: with more reliable weather, beautiful scenery and the potential to combine the wedding with a honeymoon some of the reasons why more and more couples are now getting hitched abroad. A spokeswoman for British luxury travel agent Kuoni, who have reported an increase in the numbers of enquiries about overseas weddings, agrees,
"Weddings in the UK are considered expensive but weddings abroad are great value, especially when you want to combine your honeymoon as well."
In terms of offering good value for money, shorter-haul destinations are proving increasingly popular with those looking to book their wedding overseas, as not only does a shorter journey keep the cost of the wedding down for the bride and groom themselves, but it also makes the experience for any guests as cheap as possible, allowing more people to attend. Shona Swain, acting general manager of long-haul and weddings for First Choice, admits that certain destinations are proving more popular than others,
"Greece and Italy [are] becoming more popular over the Caribbean and Indian Ocean destinations."
Italy, especially, has long been a destination synonymous with romance, from Verona's association with star-crossed lovers Romeo and Juliet to whose balcony romantic pilgrimages have commonly taken place and where couples can now marry as part of the city's 'Wed Me In Verona' scheme, to the breathtaking Tuscan hills and the Trevi Fountain of Rome, where the throwing of three coins into the water is said to ensure a marriage. It is not surprising, therefore, that this attractive country is highly regarded for hosting overseas wedings and increasingly so, with overseas wedding company Marry Abroad's Director Charlotte Hand revealing that,
"Italy is one of the most visited countries in terms of hits on our site - it is a fantastically romantic country and real backdrop to any wedding."
And with a growing number of celebrity weddings taking place on Italian soil in recent years, including A-listers Tom Cruise and Katie Holmes and footballer Wayne Rooney and his bride Coleen McLoughlin, this trend seems set to continue for many years to come.
Attracted by the romantic history of Italy, as well as the increasing numbers of Blue Flag beaches - an increase of 12 in the last year bringing the total to 227, according to the Foundation for Environmental Education who rate beaches in terms of their cleanliness and water quality amongst other criteria - the stunning scenery that Italy is famous for and that attracts lovers to marry on its shores, is also attracting those looking to buy a home overseas. Steve Worboys, Director of Experience International explains,
"Italy has a great deal to offer those looking to buy a property overseas: a warm climate, enviable lifestyle, breathtaking scenery and affordable prices amongst a wealth of attributes that destine many to fall in love with Italy, choosing to make it either their permanent home or the place they buy a holiday property. Either way, those buying homes in Italy are sure to experience La Dolce Vita and hold a lifelong passion for the country."
This is not, however, the only reason that Italy attracts those buying property overseas, the country also has excellent investment potential for those wishing to benefit from the estimated £333 million annual Italian wedding market (according to Mintel). The potential revenue from rental would come from people celebrating their honeymoon or nuptials overseas as well as guests that are travelling abroad to attend the wedding and who look to rent local property during their stay.
For those looking to take full advantage of Italy's rental potential, or else simply for their own pleasure, the popular southern region of Calabria is a firm choice, offering pristine coastline and a warm climate. Here, elegant 3 bedroom 2 bathroom villas with private gardens are available in the Paradise View resort, situated in an elevated position, just 5 minutes from the beach and the town of Soverato. With breathtaking views and just 40 minutes from Lamezia Airport, the resort also offers fantastic facilities that include tennis courts, a gym, spa, and onsite bars and restaurants. Property prices start from €123,200/ £156,000.
For more information on Paradise View or to find out more about buying property in Calabria, visit experience-international.com