Mortgage or cash - Global markets dictate buying trends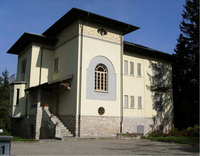 "Whichever way you look at it, buying a property in Italy has never been so easy or offered so many superb opportunities to buy at competitive prices, and I should know; I have been selling there for 22 years!", says Linda Travella of Casa Travella.
Italy is a perennial favourite for many reasons; it is a short flight time from the UK, the infrastructure is good, the people friendly, the food and wine superb, the history, culture and architecture spellbinding and the scenery mesmerising.
"Banking money, with such dismal low returns is virtually a wasted exercise at present", continues Linda, "so astute investors are now looking at buying property abroad. Italy is a safe country in which to purchase property and although property prices have fallen a little, interest has never truly waned. The summer months are adding renewed interest and with market showing strong signs of bottoming out, there are some terrific purchasing opportunities around if you are quick.
So, is a better option to pay cash? Many of my clients spending 150,000 euros or less, are doing just that. They are then renting the property for income and using for family holidays. If on the other hand, clients are looking to spend upwards of that figure, why not opt for a mortgage?
We are currently suggesting to our clients, mortgages through well established Italian banks which are, at present, offering some very good opportunities of up to 70-75% mortgages with rates currently varying between 2.75% and 4.00% (dependant on fixed or variable rates and subject to criteria). For example, a property costing 250,000 euros, with a deposit of 50,000 euros, would result in repayment over 20 years of 840 euros per calendar month. Over 25 years this would drop to 718 euros per calendar month.
The expenses for instructing the mortgage are also fixed at about 700 euros (including the survey) so you know from the outset, your financial commitment.
Also be advised that you will pay 0.25% of the value of the mortgage if you buy the property as your main home, or 2% tax if you are buying the property as a second home."
Taking into account the ease with which one can purchase, maybe now is the time to consider looking more closely at what could be yours.
Currently Casa Travella has a fine selection of homes at realistic prices.
Alture, Stresa.
A ground floor apartment, forming part of a restored Liberty style villa, in the Alture region of Stresa on Lake Maggiore.
This delightful two bedroom property with private garden can be purchased for just 210,000 euros.
Tuscany Palaia,
Stunning one bedroom apartment located in the beautifully restored hamlet, close to the town of Palaia and 40 minutes from Pisa International airport.
The hamlet comprises 24 acres of rolling countryside including olive groves. The apartment is being sold fully furnished. The hamlet offers two swimming pools, restaurant, wine and delicatessen shop, plus parking within the gated complex. The apartment is just one hour from Florence and equal distance time wise, from the sea.
Concluded Linda, "If you purchase in an area that is sought after by holiday makers or winter sports enthusiasts, you can considerably increase the "value" of your home by being able to rent out the property when you are not using it yourself. Returns on say a two bedroom apartment close to the lakes can realise as much as 800 euros per week in high season based on a property that has cost you in the region of 280,000 euros.
"For higher end homes the returns are substantially greater".
For more information, visit casatravella.com